Inanch Emir: Leading the Empire of Hair Extensions - Hair & Compounds, Inc.
Posted by DHPL INDIA
Inanch Emir: A pioneer in the Hair Extension Industry

It's October 22, 2019, and Hair & Compounds' Los Angeles office is buzzing because today is the day. Today is the day that we meet Inanch and Joe Emir, our partners from across the pond.

To call Inanch an "established hair extensionist" would be an understatement.

With over 20 years in the hair industry, she's played every role from hairdresser to educator to business owner. Within the last decade alone, she's become the only hairdresser in the United Kingdom to take home the Hair Award for Best Extensionist over 3 consecutive years. Together, with her husband Joe, she runs INANCH London, a salon based in Central London, known for its coveted extensions work, celebrity clientele, media mentions and awards. Inanch and Joe also founded Gold Class Hair, Hair & Compounds' exclusive distributor in the U.K.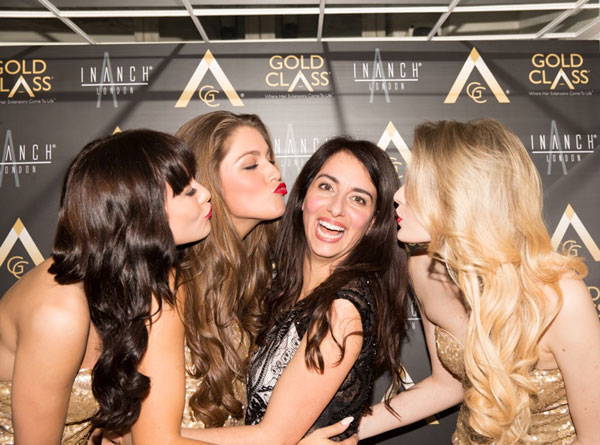 What are the most important lessons you've learned in your 20+ years as a hairstylist?

Inanch: You need to move with the times and keep up with the latest trends and innovations. Clients want and need guidance on latest hair trends and what would suit their individual look. "Same again" is no longer acceptable. Never pressurize clients to book with you during their consultation. [To wrap up] their consultations at your salon, always advise them to [leave] and have a think about it, visit other salons and then make a decision. This approach gives them the confidence that you are not just after their money and actually care about their best interests.
How would you describe the business dynamic between you and Joe?

Inanch is the "artistic" and "training/education" side of the business whilst Joe looks after the "business operations" and "marketing," including the B2B side. We tend to get on with our roles without any conflicts.
At what point did you decide that you wanted your own business and when did it actually happen? What was the biggest challenge in starting INANCH London?

Joe: We decided that we wanted our own business back in 2005, when Inanch wasn't getting the recognition that she deserved at the Central London salon where she worked. She was always passionate about opening her own salon one day, and we just came across the ideal premises in Central London and went for it. The first 2 years was a major challenge. Although we had a clientele that followed Inanch and we attracted new clientele to the salon, it was very difficult financially. We both left our jobs to set up the salon. We hardly had any wages coming in for ourselves during those 2 years. We had to move in with Inanch's parents and rent our house, which we did for 3 years before moving back. It was extremely tough. But we found our "niche" in hair extensions and kept attracting a good client base through recommendations and marketing initiatives.
What would you say your biggest mistake has been?

Not having certain "systems" in place from the beginning which would make our administrative duties less time-consuming and more effective.
We had so much to talk about, I couldn't fit it all into one blog!
Check back for our second blog about Inanch.
In the meantime,
watch our IGTV for the
on-camera interview here ---->
Follow Inanch on social media!
Inanch: @inanch_justme
INANCH Salon: @inanchlondon
Gold Class Hair: @goldclasshair Collection 2019 Sale 70% Off Title for image