How to Choose the Best Hair Extensions for Your Clients
Posted by DHPL INDIA
If you're wondering what hair extensions are right for my client? Know that they aren't for everyone, or rather, not every hair extension brand or type is suitable for everyone. From individual strands to wefts to tape-ins, to the way extensions are colored, cut, or installed, extensionists should know which clients would be best suited for which extension type. In this blog, you'll learn how to answer the eternal client question—what hair extensions are best for me? Because finding the right hair extensions for your clients is based on a thorough consultation and client education, we're empowering you with all the right stuff to ensure your clients are getting the best!
What type of hair extensions are right for my client?

First, you need to consider the hair color, texture, and maintenance as per the client's lifestyle. Considering these three things, first will determine which hair extension type, color and texture will match. For example, mass-produced and processed extensions may be better for those who want to deal with less maintenance or have a lower budget. At the same time, 100% natural human hair is of the highest quality and requires additional care.
How to find the right hair extensions for your clients?

Your client consultations and education are the first steps in finding the right hair extensions for them. Within the consultation, you'll be able to see their hair color and texture, which are also essential to getting their perfect match. In the end, the clients are the ones responsible for how they care for their extensions at home, so it's up to you to ensure they are given the best match, products and education before they leave your chair.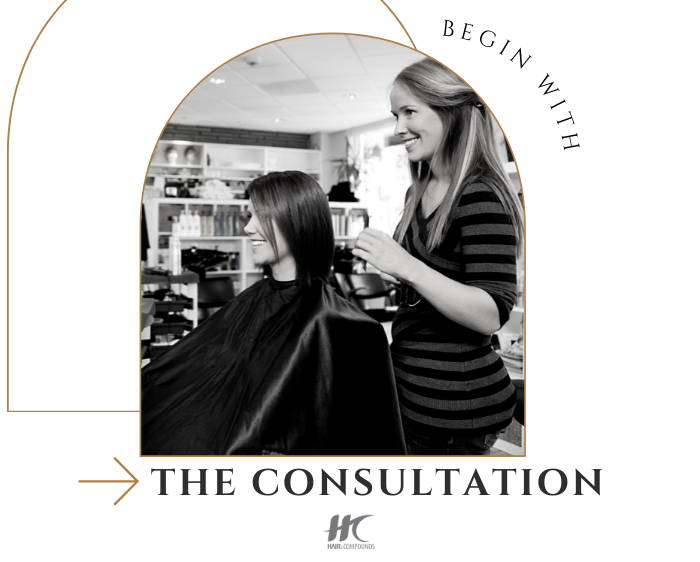 Critical factors in determining the client's match are to know the nuances between extension textures, how their coloring affects their care, and if your client will be committed to the aftercare of their extensions.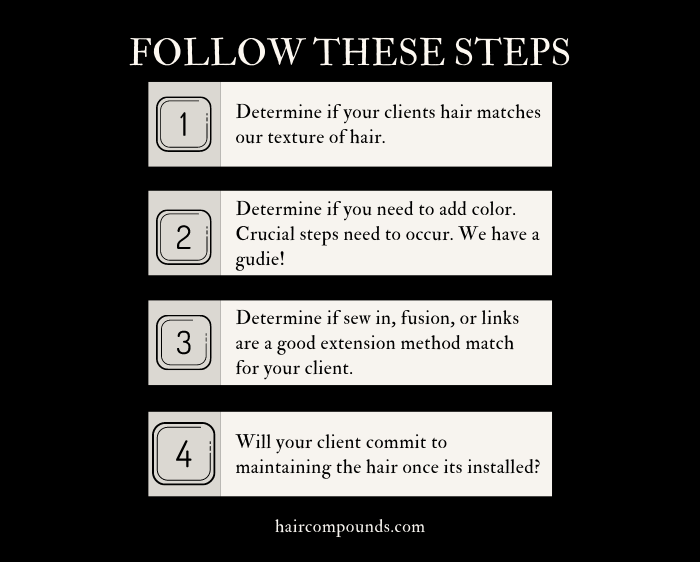 Texture and Curl Patterns

Your client should be aware that 100% Indian human hair can be very wavy. Natural cuticle hair extensions require extra precautions and styling efforts, or they can risk being damaged through excess heat and overuse of styling tools. For curly-haired clients, you need to know their curl pattern or risk making their extensions look false.
Even high-quality extensions need to be bleached and/or dyed from a natural dark brown to reach various color levels, including the lightest of blonds. If the stylist or client does not follow a brand's Guide for Color Treating the Hair, it can cause permanent damage to the extensions.
Of course, you need to know whether a client's natural hair can handle a particular bond type or installation method. If the client has super-thin hair, they might prefer fusion tips over wefts, or if the client likes to do heavy styling, maybe individual strands aren't the method for them.
LEARN MORE: Biggest Myth About Cylinder i-Tip Extensions
If a client isn't committed to caring for their extensions, natural human hair extensions might not be the best option for them. Using the wrong hair care products: harsh shampoos, ineffective conditioners or deep treatments, too much oil or heavy silicones can cause build-up and block out moisture, thereby drying out the hair, making it frizzy, matted, tangled, or unmanageable.
Choosing the Right Extension Finish for Your Client

Hair & Compound Extensions come in Premium, Layered and Curly finishes depending on the installation method of choice. Hot Fusion or Cylinder I-Tips feature all three finishes, while our hand-tied wefts come in Layered and Curly finishes. A Layered finish has shorter lengths that curl upwards and outwards for a natural-looking wave and bounce. This knowledge is critical for clients who prefer to wake up to straighter, smoother styles that require less styling.
LEARN MORE: Hand-Tied Extensions vs Tape-Ins
How to find the right color extensions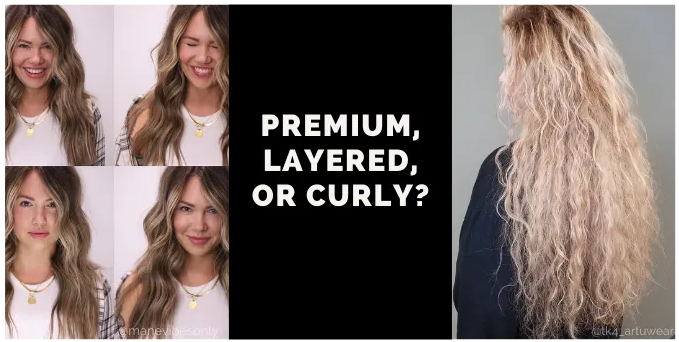 Choosing the best hair extension colors means having an understanding of undertones and color theory within the natural hair color and skin tone of the client. Be sure to grasp whether your client's color scheme is warm, cool, or neutral and choose an extension that compliments them. Warm tones go with reds and yellows (goldens and warm chocolates), cool tones go with blues and greens (ash, cool browns), and neutrals can go either way. Use natural lighting and indoor lighting to check the swatches against the client's hair and skin coloration.
Finding the right color hair extensions means only ordering hair from highly-reviewed brands like Hair & Compounds. You want your extensions to be color-treated in a way that maintains the integrity of the hair. The best hair extensions should use multi-tonal technology and offer various root, highlight, and color options. Multi-tonal hair includes extensions that contain numerous colored strands within them.
Prepping clients Before Hair Extensions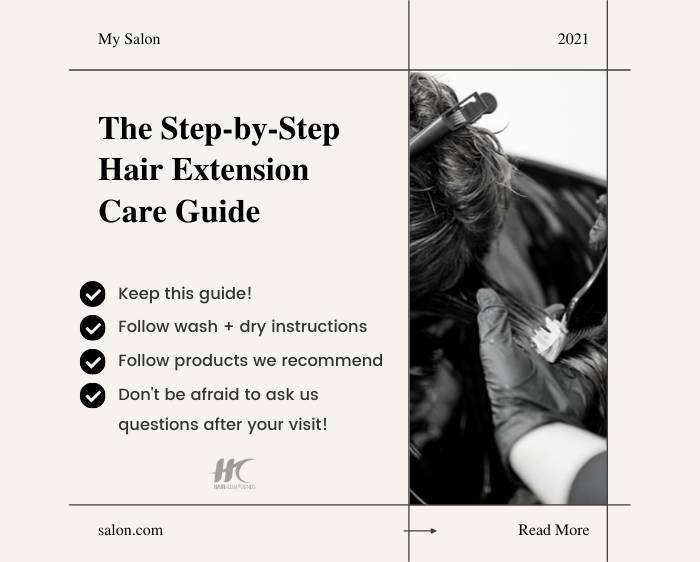 They need to know
To use a clarifying shampoo once every 1-2 months depending upon the amount of styling products applied to the hair..

Avoiding shampoos with harsh chemicals like sulfates is best

That they should shampoo their hair twice when washing.

How to rub gently but thoroughly throughout their scalp, in-between bonds.

To only shampoo hair toward the roots unless the hair has a lot of product build-up. Only take it through the tips on the second wash for product build-up to limit drying out the hair.

That conditioner must only be used on the 6' from the root and never on the scalp to avoid loosening bonds.
Ordering Your Clients Hair
Once you have determined texture and curl patterns and color, it's time to decide which installation methods, lengths and how many bundles would go best with your client. Here are some of the most popular Hair & Compounds extension methods, which hair types they pair best with and their styling protocols.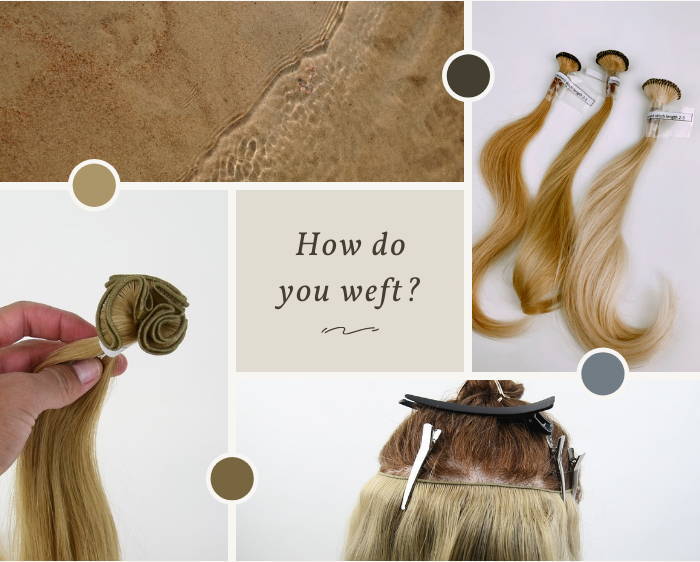 Hand-tied wefts are weaved by hand. Hair & Compounds hand-tied wefts are 100% Indian Remy, silicone-free hair woven into three continuous threads. Wefts can be installed with clips, micro rings or sew-in braids and can be applied with NBR (natural beaded row), IBR (invisible beaded row), SKW (Sarah K. Wilks) methods and more. These hand-tied weft extensions are best for naturally wavy and curly hair with medium to thick hair density.
If your client likes to do heavy styling with a lot of brushing and pulling, these might not be the best extensions for them. Because they are sewn-in, pulling can cause shedding. These extensions last about two months before needing to be moved up depending on the rate of scalp hair growth—clients who wait too long to fill risk tangling, matting and hair loss.

WATCH: About Our Hand-Tied Wefts
Methods of installing hand-tied wefts

Clips are wefts of hair that have a clip sewn to them. They can be clipped throughout the hair and removed just as quickly. They can go well with thinner to medium density hair but not so thin that you can see the tracks. They only need to be washed about every 15-20 wears for the low-maintenance client.

Micro-rings or Microbeads involve taking small sections of the natural hair and threading it through a tiny ring, then clamped flat to secure in place. The extensions can then be attached by sewing anchor points to each ring—best for medium to thick hair.

Sew-Ins use a method that involves braiding the hair to the scalp and then sewing the extensions purposefully to reduce stress on the natural hair and scalp. The SKW method minimizes the contact with the scalp to minimize stress spots and/or traction alopecia. Best for coarse, thick, or curly hair types.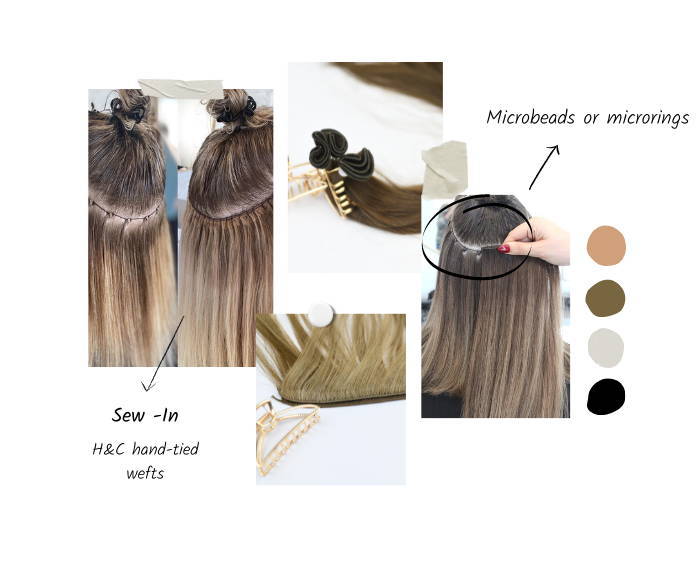 1. First, select your finish from Layered or Curly.
2. Next, choose the length your client desires. Our Layered hair comes in 14", 18" and 22", while our Curly finishes come in 16" and 20" wefts.
3. Choose colors from the color chart (you can text us a photo for assistance).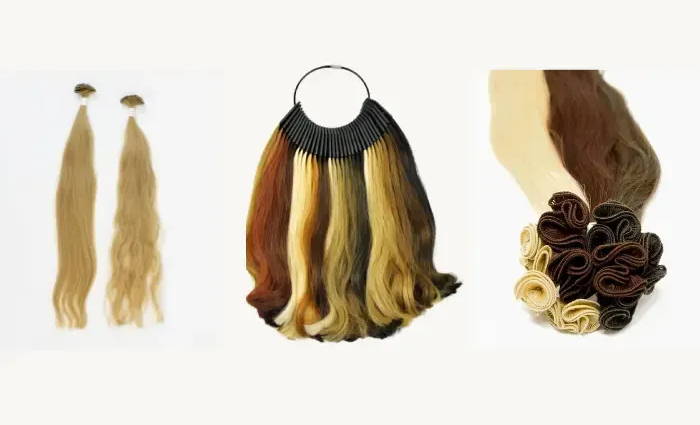 Polymer Hot Fusion (aka Keratin Bonds or Fusion

Polymer hair bonds are individual extensions made with strands of high-grade Indian Remy hair with a polymer bond. This extension is available in Premium, Layered and Curly finishes and small and large tips. They're great for fine to medium hair. This extension type can take a little more grit with styling but keep heat styling to only a couple of times a week and not every day. Be mindful of product build-up, heavy oils or conditioners as they can loosen the bonds, so keep it simple.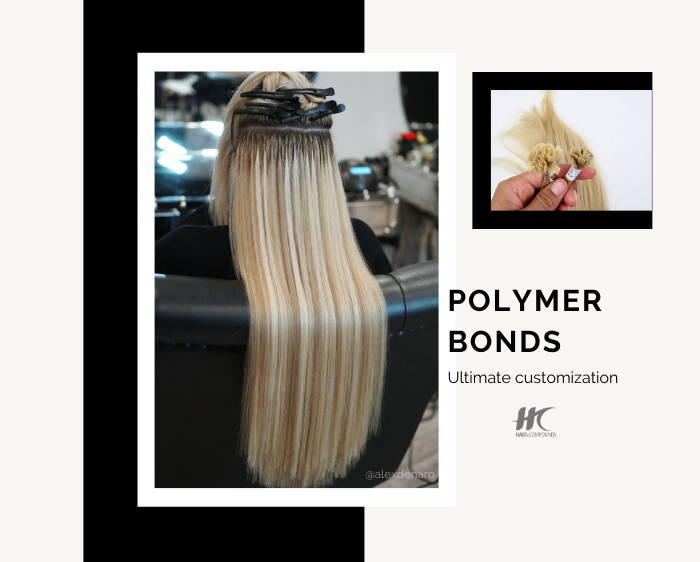 1. Select your finish: Premium, Layered, Curly
2. Decide on length: 16", 18", 20"
3. Select your tip size: Large vs Small
4. Choose your color with our color guide (text us a pic of your client for color-matching assistance)
5. Choose your quantity. 4-6 bundles are perfect for a full head, while 2-3 bundles can work for a partial fill.
Cylinder I-Tip (aka Micro Ring)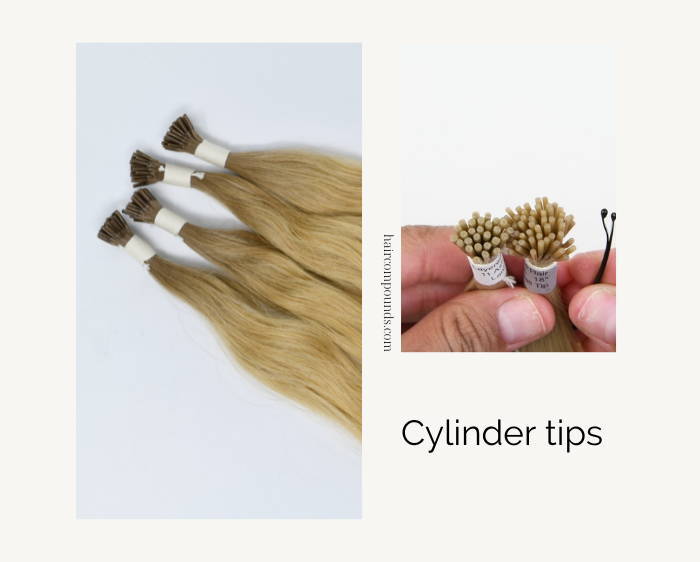 Our cylinder method hair extensions feature a reusable, lightweight copper i-tip link. They can easily be molded back into shape for multiple uses. It's a lightweight hair extension that doesn't add stress to the natural hair and scalp. I-Tips can last for up to a year with proper care and are best for all hair types. Like Poly Fusion extensions, heat styling needs to be kept to a low roar and heavy product application near the bond to avoid slippage.

1. Select your finish: Premium, Layered, Curly
2. Decide on length: 16", 18", 20", 22"
3. Select your tip size: Large vs Small
4. Choose your color with our color guide (text us a pic of your client for color-matching assistance)
5. Choose your quantity. 4-6 bundles are perfect for a full head, while 2-3 bundles can work for a partial fill.
Everyone has different hair types and lifestyles, so understanding how to determine the right hair extensions for the right client is crucial to their experience. When choosing 100% human hair extensions like Hair & Compounds, know that their perfection lies in their imperfections—just like real hair. And just like all things human, they have their limitations. Human hair and human hair extensions require stellar care to get the best results. So, when asked what hair extensions are right for me, you'll know the proper vetting and client education to help your clients be one step ahead of the most common issues with our hair, why they occur and how to resolve them. Collection 2019 Sale 70% Off Title for image