---
Frequently Asked Questions
Before I sign up for a new account, can you tell me about your company?
We would love to tell you about our company! Here's a great video about Hair & Compounds' background:
How do I create an account?
To get an account, you will need to be a licensed cosmetologist or salon business owner. To apply for an account, please fill out and submit the form at this link: NEW ACCOUNT

It will take us up to one business day to review your account. Once approved, you will get an email that will allow you to set up your login information. Then you will be able to see our prices and place orders online.
What do you need to see on my license in order for me to create an account with you?

When reviewing documentation submitted to create an account, we verify that the license is a valid and current state issued cosmetologist license or that the business license is for a hair salon or hair replacement business. We check the expiration date, the state and that the name matches the one you entered when applying for an account. We do not accept nail, massage, or esthetician type licenses, because hair extension installation requires training and knowledge in hair and scalp health and care.
The only way to try our hair is to make an order. There is no minimum requirement and we have a great 100% risk-free, 30-day return policy!
What this means is that after you order the hair, you can wash it, shampoo it, dry it, brush it and test it in any way you like, EXCEPT you CANNOT alter the hair chemically (i.e. coloring/dyeing/bleaching), mechanically (i.e. cutting), or install the hair.
What this allows you to do is to hopefully feel very comfortable in trying our hair to make sure our quality meets your and your clients' expectations.
If our hair does not meet your quality standards within 30 days, we will refund the amount of purchase. The hair is considered "accepted" and "non-refundable" when you officially decide to install the hair.
How much does your hair cost?

To see the prices of our hair you will need to create an account. We only sell to licensed hair professionals and by restricting access we protect our stylists from having our prices public. Don't worry, it's super easy and free to apply for one!

To get an account, you will need to be a licensed cosmetologist or salon business owner. To apply for an account, please fill out and submit the form at this link: NEW ACCOUNT

It will take us up to one business day to review your account. Once approved, you will get an email that will allow you to set up your login information. Then you will be able to see our prices and place orders online.
We do not require our stylists to be certified in our extensions to purchase. There is no prior commitment other than submitting a cosmetology license for review.
Although we do not offer classes, we do have a section on our website dedicated to education that includes hair extensions classes or training.
You can also join our Facebook group for extensionists, where hair stylists can ask each other questions and discuss training recommendations. Here is the link to find or join the group: FACEBOOK HAIR EXTENSIONISTS GROUP
Where do you get your hair?

Our hair comes from several temples in South India and is processed in our production house in Chennai. To learn more about our hair production, please watch this video:
Do you guarantee your hair?

We guarantee the hair grade purity and manufacturing specifications of all our hair extension lines that ensures wearability and performance throughout the expected life cycle.

All hair extensions orders are thoroughly inspected throughout the manufacturing process. Every bundle of hair is hand washed, vigorously tangle tested and air dried as part of our quality control procedures. Our primary concern is to ensure that you and your customers are completely satisfied with your purchase.

We encourage you and your client to inspect all orders immediately after receiving them. If you or your client are not 100% happy with the hair quality, color, texture, finish or any other aspect of the hair extensions upon receipt of your order, return the order immediately under our "Standard Returns of an Unused Product" policy.
If there is a problem with the hair extensions after installation that was not visible prior to the installation, contact us immediately to report a Hair Issue.
Read more about our Quality Control measures.
---
How can I get a price quote?

At any time, you can log in to your account and then start adding extensions to your cart. Once you have selected all of the items you would like included in the price quote and added them to your cart, you can continue through the checkout steps to obtain a full price quote including shipping. All items in your cart will remain there until you delete them or complete the final checkout. You can also send us a message asking for a price quote at orders@haircompounds.com. Please remember to include all details (Extension type, finish, length, color(s), tip sizes and quantity) and which type of shipping you think you will need.
How can I see stock availability?

At any time, you can log in to your account and then start adding extensions to your cart. If a color or length is out of stock, a notice will pop up under the cart button. To check when we expect items to be back in stock, please see our Coming Soon page.
All customers who have either ordered from us previously or just signed up are automatically invited to our online store. After activating your account, you are ready to order online. We would love to walk you through the process. Watch this video to learn more:
Is there a minimum number of hair bundles that I have to order to purchase hair from you?

There is no minimum purchase or quantity required to order from us. All of our hair extensions are sold by the bundle and not a pack to enable mixing and blending of multiple colors.
I am trying to place a weft order, what is the difference between Thin and Full?

Thin and Full refers to the density of the weft track. Thin will have less hair on a track but more tracks per bundle. Full will have more hair on a track but less tracks per bundle.

All our Wefts weigh 1oz = 29 grams:

- 14" Layered bundle contains 3 thin tracks
- 18" Layered bundle contains 2 thin tracks
- 22" Layered bundle contains 2 thin tracks, a few colors have 1 full track
- 16" Curly bundle contains 1 full track, a few colors will have 2 thin tracks
- 20" Curly bundle contains 1 full track, a few colors will have 2 thin tracks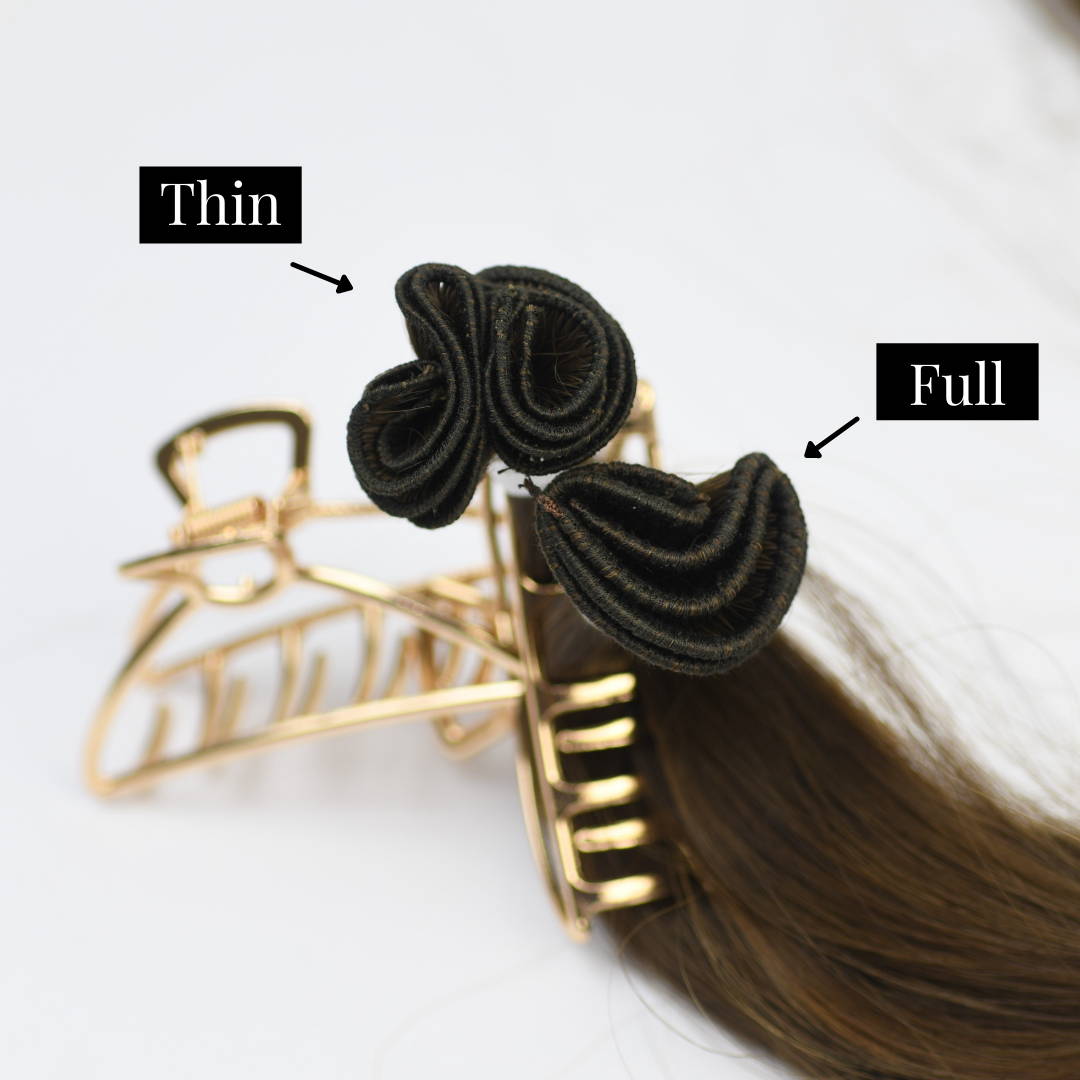 Can you help me color match?
Yes, we have multiple ways we can help you color match!

One way would be for you to purchase a color ring to have on hand in your salon. This way you can compare the colors in the color ring side by side with your client's hair color.
ORDER A COLOR RING

Another way we can help you color match is by taking photos or videos of different hair colors in different lighting and sending them to you.
REMOTE COLOR MATCHING

We can also organize a virtual visit for you, where we can have a video call and show you the colors you'd like to see. If you'd like to have a video call with us, please contact us at hairhelp@haircompounds.com.
How often do you re-stock?
We receive 1-2 shipments per week and each shipment will have approximately 10 kilos of hair. Most items will not be out of stock for more than 2 weeks. Please send us a message if you would like to be entered on our waitlist. You will be notified the moment the item you need is back in stock.
---
Can I get more information about custom ordering?
We own our production house located in southern India, which gives us full creative control over our extensions. It is not feasible for us to stock every combination of color, texture, length and density, but we do have the ability to create custom orders! This includes creating extensions in colors that we don't regularly carry, changing the texture, creating extensions in lengths up to 30" and so much more.

With custom orders, you should know:
- There is a minimum order requirement of 4 bundles.
- The prices are typically 25% more than regular prices.
- A 50% deposit is required to start production. The remaining 50% is paid when the order is ready to ship to you.
- Custom orders typically take 4-6 weeks to complete.
- Custom orders are non-refundable.
To get a quote, please complete one of the custom order forms:
Hand-tied Wefts

Polymer or Cylinder
Custom Order Walkthru:
How long will it take for me to get my custom order?
Custom orders take 4-6 weeks for production time. We do not modify existing inventory. Your custom order instructions are sent to our production house in India, and the order is made according to the specifications you have submitted. You can follow the status of your custom order using our Custom Hair Portal.
---
How many bundles do I need to order?
Full head = 4-6 bundles on average. For wefts this is 4-6 ounces. For Poly or Cylinder this is 3-4 ounces.
Partial fill = 2-3 bundles on average = For wefts this is 2-3 ounces. For Poly or Cylinder this is 1.5-2 ounces.
Visit the Complete Weft Guide. Visit the Complete Cylinder Guide. Visit the Complete Poly Guide
What are the features of your hand-tied wefts?

Please review our Complete Weft Guide, which has all the technical information and helpful videos to answer your questions.
How long does your hair last?
Our hair can last up to a year with the proper care, but we do have customers who have worn the extensions up to 3 years! Normally levels 1 through 8 will last up to a year and levels 9-12 will last up to 6 months. The key to long lasting extensions is moisturizing and low heat styling. Here is a great testimonial video from one of our customers.
What's the difference between Premium and Layered?
All of our hair is the same quality and from the same source. The difference is how we finish the types of hair and the prices. For more information, please watch this video:
How do you measure Curly hair?

We measure our Curly hair both relaxed and pulled straight. When relaxed and curly the hair may be 1" less up to the exact length stated. When pulled straight the hair will be at least 1" longer.

For example, 16" Curly hair will be 15-16" relaxed and 17" pulled straight.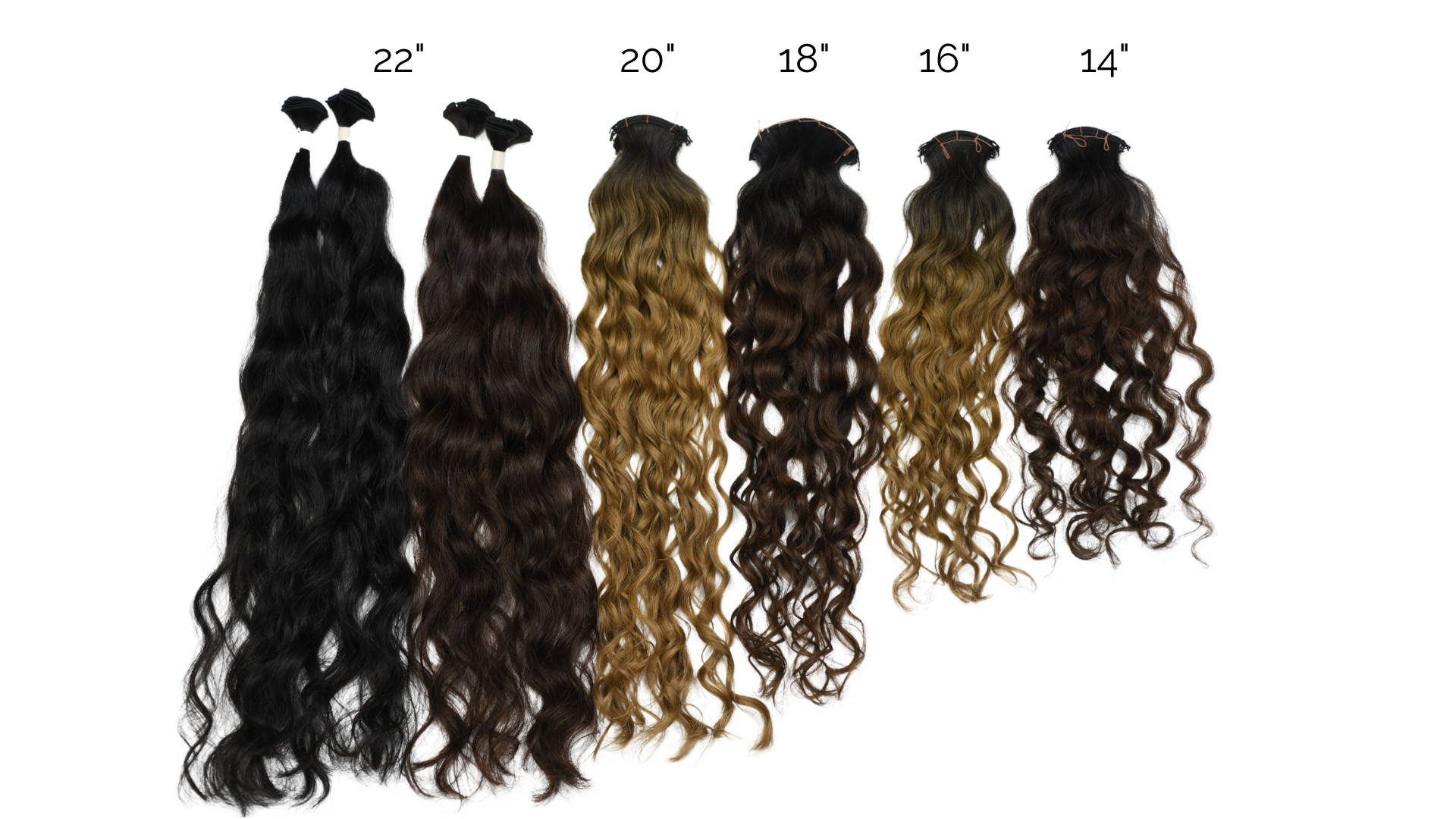 Is your Curly hair permed?

Our curly hair is natural. We don't use perms. In fact all of our hair is a natural Indian texture and comes from donors with naturally wavy hair or a natural loose curl. The processes we apply are bleaching the hair to a lighter level and depositing fiber dyes to achieve the shades we offer. The lighter the color level, the less wave or curl, because bleaching breaks the disulfide bonds and reshapes the natural texture. The lightest level for Curly hair is level 10.
What is Brush-Up? Can I get further information on Brush-Up?

Brush Up is a simple spray-on, heat-in treatment that can be applied on all colors and textures. It contains a light bonding agent that calms cuticles and creates a smooth tangle free surface that lasts for several weeks. Use on any and all types of cut hair products to refresh the look and feel of the hair, while extending the longevity of the extensions. It is also safe and beneficial for scalp hair.

More details on our Brush Up page with a "How to" video explaining the treatment process.
What type of hair are your hair extensions made from?

Our hair is 100% Indian Remy human hair with cuticles intact. Our hair is ethically sourced as we purchase raw hair from Indian temples nearby our production house in Chennai, India. Purchasing hair from Indian temples is considered the most ethical way to source hair in the industry. The people donate their hair for religious purposes. The temples then sell the hair to distributors. The temples are able to use this money to support the local community by providing free meals, lodging, and other services. Watch this video to learn more about our hair source.
I received my order and the hair has a mark across the bundles near the top, what is it?

On occasion you may see a line across the hair about 6" from the top of the extensions. This is a watermark created when we wrap the top of the extensions prior to washing, tangle testing and conditioning of new batches. Every single bundle is washed and tested. When we remove the plastic cover from the top of the bundles and let the hair hang dry, it often creates a watermark. The watermark disappears with the first wash when all the hair has been saturated with water.
Do you have straight hair?

Our hair texture ranges from a slight body wave to a full body wave as is the natural texture of Indian hair. Every batch of hair will have variations of texture and strand density. Natural Indian hair texture is not straight.

If a client wants a smooth straight style, the hair will need to be trained and properly styled. This means the hair will not naturally lay thick and heavy, nor will it dry straight like most Asian hair blends. Cuticle hair with a natural texture will behave exactly like a normal head of hair.

If you desire a straight hairstyle, first blow dry the hair until it is completely dry. Then pass over the hair once or twice with a flat iron. The hair will be smooth and soft from root to tip. DO NOT USE HOT TOOLS ON DAMP HAIR, AS THIS WILL CAUSE SIGNIFICANT DAMAGE.
It is also recommended to apply heat protectants when straightening blond hair colors.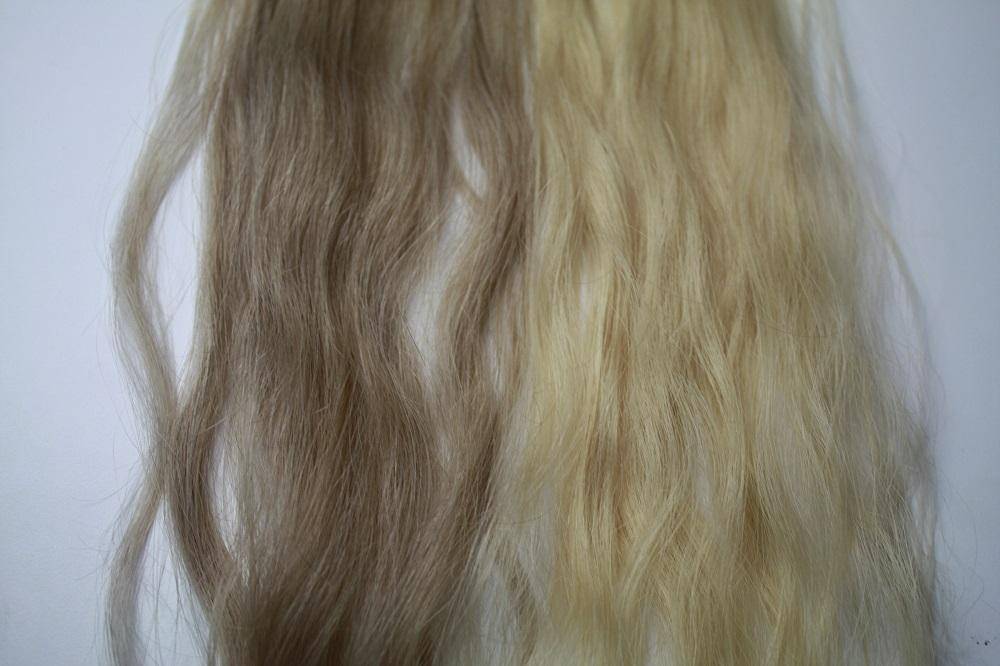 Can I cut the weft track?
We recommend not cutting our hand-tied weft tracks because they will unravel. However, if you still wish to do so, we have a video that shows how to glue the ends of the weft tracks after cutting them.
---
Hair Treatment and Maintenance↓

How to color the threads on the weft track?

Nylon thread is sewn across the tracks, and these will unfortunately lighten with any peroxide and/or are completely resistant to hair dye colors. Nylon or even cotton threads rarely absorb hair dyes. We do however have a great solution that has already been tried and tested with excellent results. Permanent fabric markers in brown shades can be used to quickly and easily cover the threads. They will not bleed and are permanent through multiple washes. Since we use fiber dyes to dye our hair, it makes sense to use the same type of dye for the threads.
Watch our video on darkening the thread on our wefts in just 30 seconds:
In this photo, we used one of the fabric markers purchased via Amazon to cover the thread. It took about a minute for the entire track width as the marker glided on easily and the thread absorbed the color.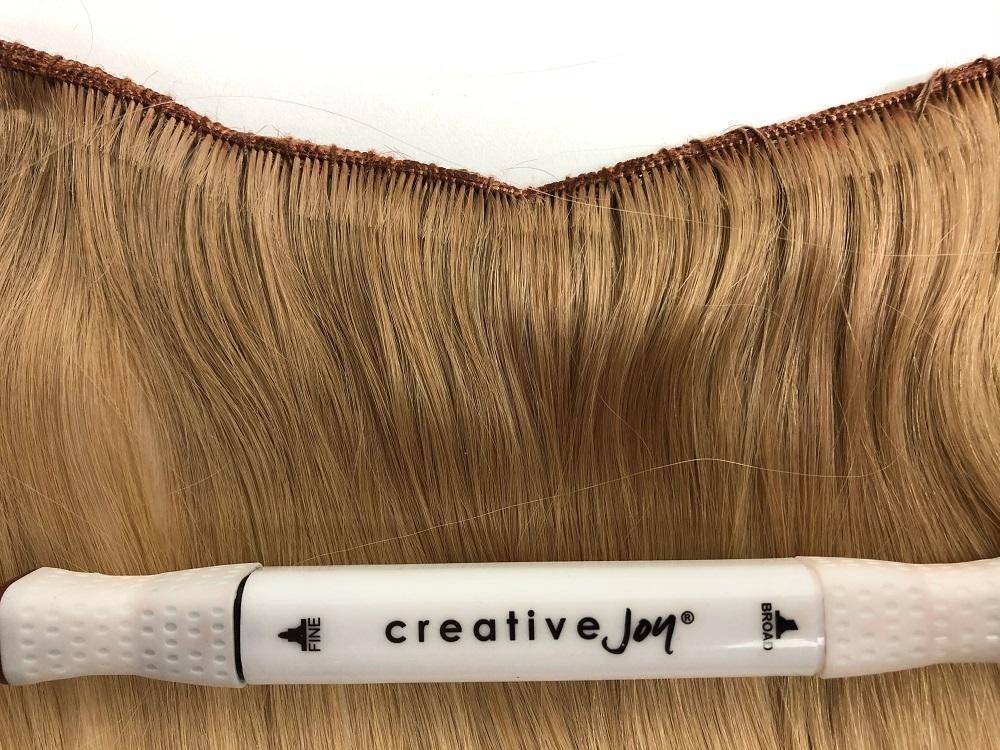 Can I color treat your hair?

We DO NOT recommend color treating any of our hair. We use permanent pre-metalized fiber dye; the same type of dye that is used to dye wool and silk. Additional chemical applications, even those that may seem harmless, can result in odd colors and will damage the light blondes. If you do choose to color treat the hair, we have a guide that lists each of our colors and recommended applications.
COLORING THE HAIR
How can I help my client that is having issues with the hair extensions?

We always recommend to cover the basics of maintenance with the client during consultation. We provide a hair card with every shipment that briefly outlines the hair type and care guide. We also have a maintenance guide you can share with your client.

Can I use oils and hair masks on the extensions?

Oils and hair masks are often used on different types of human hair, like Asian hair that is thicker, heavier and coarser. Asian hair is often delivered with a silicone coating, which wears off. Hair masks and oils replenish that coating on this type of hair.
We only use 100% Indian Remy hair which is finer and lighter, and we don't coat it with silicone. So when you use the same products, such as oils and hair masks, it often makes the Indian Remy hair waxy due to buildup. The hair can become dry and tangled because you keep coating it. All you really need is a soft shampoo and a good daily conditioner for daily upkeep.
Our advice is: Once a month clarify, once every couple of months use Brush Up!
When it comes to care, keep it simple.
---
What payment options do you accept?

We accept Visa, Mastercard, American Express and Discover cards processed through SHOP PAY secure servers. During checkout, you can opt for the REMEMBER ME to save your card on their servers for accelerated checkout on your next orders.

Apple Pay is available when checking out on your Apple devices.

PayPal checkout is available if you prefer to use your Paypal account or Paypal credit card.
How can I set up to use the salon credit card for payment?

Please have the salon owner/manager complete and submit our Order Authorization form. Upon receipt, we will add the information to your account records, notify you that your account has been updated, and you can begin ordering using the authorized payment.
How can I use my account credit for my next order?

If you opt to have a credit instead of a refund, we send you a credit memo upon receipt of the returned items. We then create a Gift Card for the same amount and email you the code that can be used for any future order. The gift card maintains a balance until you have spent the entire credit amount.
---
How much is shipping? How long does it take to receive hair?

All orders are shipped out Monday-Friday. If you place your order before 2-3PM PST, your order will ship out the same day. The following day will begin the transit day count. Free shipping is offered and shipped via First Class mail and takes about a week to deliver. Faster services can be selected and transit time all depends on what service you select and the destination. You can view a list of all the shipping options on our Policies page.
To get an exact cost, you can always create a mock order by adding items to your cart and use the checkout to the shipping page.
What does your shipping insurance cover?

The shipping insurance covers all shipment lost or damaged while in transit. We will replace or refund in full lost and damaged orders. Visit Our Policies page for details.

How can I track my package?

Once an order has been shipped, you will receive an email with the tracking information. Your order confirmation email provides a link to the Order Status page, which offers multiple options for keeping track of your delivery:
- A tracking number that links to the carrier's website with up-to-date tracking information
- A map view displaying where your package is now and an estimated delivery date
- You can sign up for the SHOP app, which provides tracking information for your orders
- An option to get shipping updates through text by entering your mobile phone number
How can I place an order for pick up?

During checkout, select shipping method: You Pick Up (Los Angeles Only). We will contact you once the order is ready for pick up. You can either pick up the order yourself, send someone else or arrange an Uber/Lyft driver to pick up your order.
If I place my order on the weekend or after business hours, how do I know when my package will be deliver?

Your order will be shipped the following business day. Days enroute begin counting the day after your order has been shipped. For example, if you selected 2nd Day Air on Saturday, your order would be shipped on Monday and delivered on Wednesday. Visit Our Policies page for details.

I received a massage that my package was delivered, but I can't find it.

Please use your tracking number to obtain complete status and delivery details from the USPS or UPS website. Their complete tracking history and delivery information may offer more insight. If this does not help you discover where the driver/mail carrier left the package, the following are your best options in this situation:

1. For USPS, we do not advise calling their customer service as they cannot view anything more than what is displayed with the tracking information. Speak directly with your mail carrier to find out where they left the package.
2. Call UPS customer service immediately to inform them about the problem. They can send a message to the local center, which will contact the driver.

Unfortunately, all we can see is the same tracking information. Once the package leaves our business, we have no further control over its delivery. USPS will allow us to put a trace on the package only after 10 days. UPS will allow us to initiate a trace right away, but it can take 7-10 days. We always recommend trying to speak with the delivery person as soon as possible or even checking with a neighbor.
My package has still not arrived and it is past the estimated delivery date. Can you find out where it is?

Occasionally, the mail carrier will experience delays and deliver past the estimated delivery date. Always use your tracking number to navigate to the carrier's website and view the tracking history to see the last location scan.

Unfortunately, we do not have any special insight and can only see the same tracking information as you do. We suggest that you sign up for a free account with USPS and UPS for additional control over your packages and deliveries.

If you feel the delivery will be too late and you need your order right away, we can suggest you place another order for a rush shipment. We can initiate a return for a refund once the original package is delivered.
---
How do I request a return?

All products, provided that they are unused or unaltered, will be accepted as a return within 30 days after receipt of your order. Please note that there will be a restocking fee of 3.5% for a refund or you can request a credit without the restocking fee to apply to a future order.
We do not offer refunds for the original shipping charges but we will pay for return shipping (within the US only) and provide a prepaid shipping label.
Please complete and submit the Returns form on our Contact Us page.
Can I return hair that I have not used or opened from over 30 days ago?

All returns must occur within 30 days after receipt of your order. Please check your order delivery date in your account online to verify the date your order was received. If you are within the 30 day period, please complete the Return request form.
Is it possible to return the hair after installation?

We do not accept a return for hair that has been installed or cut. Per our return policy, after you order the hair, you can wash it, shampoo it, dry it, brush it and test it in any way you like EXCEPT you CANNOT install the hair, alter the hair chemically (ie. coloring/dying/bleaching) or mechanically (ie. cutting). Thus, if you installed and cut the hair, then it is considered to be altered and no longer applicable for a return.
How can I exchange the hair extensions I received for another color or length?

There are 2 options:
1. We can email you a return label, and then you mail the hair back first before we send you the new hair. If there is a difference in cost, we will either generate a refund/credit or charge your credit card for the difference.
2. You can place an order for the new bundle now, and we can ship it as a regular order. We can still email you a return label. Upon receiving the returned hair, we can issue a refund or a credit memo.
It really depends on if you want to wait to receive the new hair color after we have received the return or if you want to treat the return and purchase as 2 different transactions.
Please note that hair can only be returned if it has NOT been color treated, chemically altered, heat styled, cut or installed on someone. We also have a restocking fee that is 3.5% of the total amount of returned products if you elect for a refund.
---