How To Prepare Hair Extensions Before A Clients Appointment
Posted by DHPL INDIA
Even if you are a stylist who already knows how to prep hair for hair extensions installation or a client planning to get hair extensions for the first time, we've got some definite musts that you may not have considered for preparing hair extensions before their installation. In this blog, we discuss the importance of the consultation, what a stylist should do to prepare new hair, and give you prep tips on the most popular extension methods.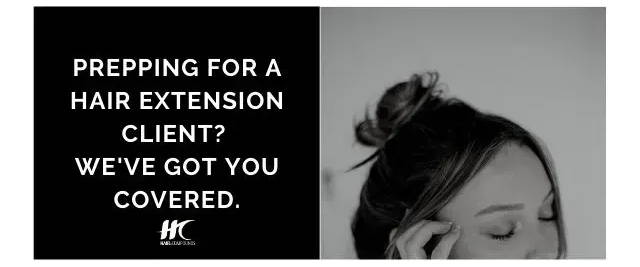 Planning for a hair extension appointment

Both you and the client have work to do when planning for a hair extension appointment. A client's full extension education should be covered in the consultation and reiterated in an email, text message, or via a page on your website before their install appointment. Your education needs to detail everything they need to do and prepare before and after their specific extension installation method.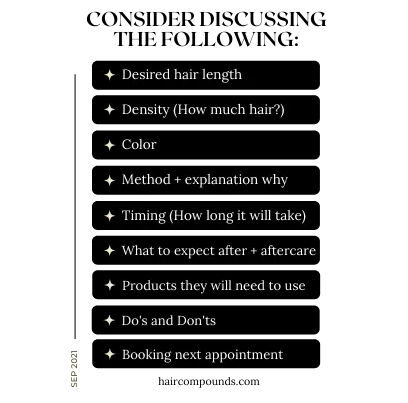 The consult is also the time when you will discuss the following:
Desired hair length

Density (how many wefts)

Color

Installation method

Timing (how long their installation appointment will be)

What to expect after and how to care for their hair

The products they need to have on-hand

Booking their next appointment before they leave
Note: The client consultation is just as important as the services and products you provide to increase your position as an authority and your retail sales on products their new extensions can't live without.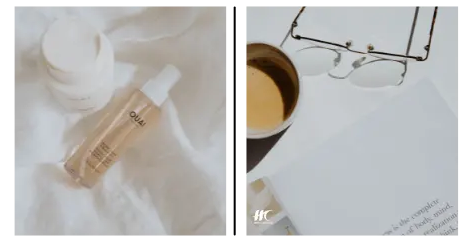 How to prepare hair for hair extensions

Here are some top tips on how to prepare hair extensions before your client's installation appointment.
Don't wait until the day or hour before your client's appointment to check the hair you've ordered. Unwrap the package of hair as soon as it arrives to confirm that you've received the correct finishes (like H&C's Premium Layered or Curly finishes), tip size, and track density.

Compare the color(s), wave or curl pattern, and finishes you've received to photos of the client's hair and ensure that they're a good match.

Pre-wash and blow dry all of the hair to see if it behaves as expected. Note that most hair color levels from 10-12 shouldn't be heated or styled above 300°F to avoid irreversible damage.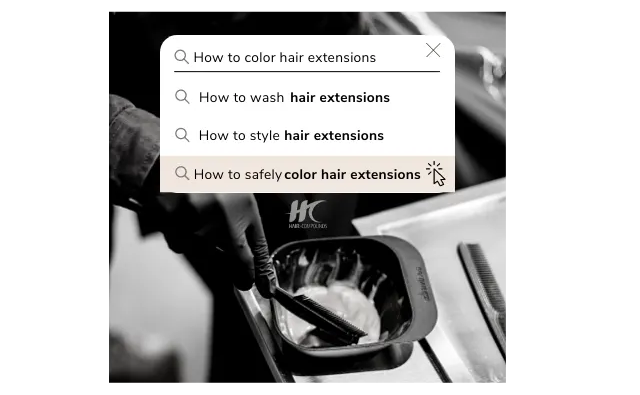 Pay attention to how your hair brands pre-treat and color their hair. Hair & Compounds 100% Indian Remy hair is already safely color-treated and finished with our Brush Up solution. It's followed by a deep conditioning treatment that will inhibit toner, so it's strongly recommended to never color-treat it after purchase. If you find that you need to add more root dimensions, follow your brand's coloring guide if they have one available. Our Free Color and Maintenance guide is available for download below if you need one.
On the day of the hair appointment

Before you get started, have your clients see and feel the hair before installation to make sure it meets their expectations. It is much easier to delay an appointment and disappoint your client than for them to be unhappy and unable to return the hair after installation. Most extension brands do not accept returns after hair has been installed.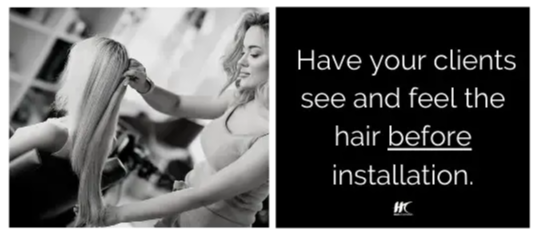 If you've already educated your client on what to expect during and after their appointment, go ahead and keep going. Hair & Compounds feature QR codes on the back of their hair card to link and share the maintenance guide with your client to read while installing their hair extensions.
Preparing the Client's Natural Hair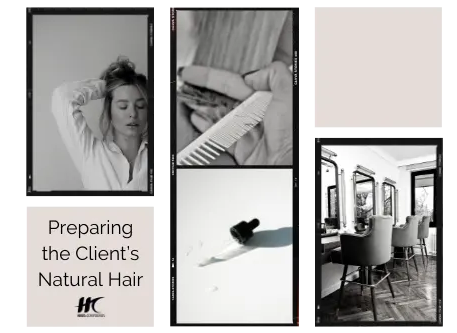 Either you or the client will prep their natural hair before the installation. If you don't provide the pre-installation prep services, they should have a detailed list of what to do based on their specific hair type and the extension method they are getting. They need to have the exact protocol on what to do, whether they are preparing hair for braid extensions, preparing hair for tape-in extensions, prepping for sew-in, prepping for keratin extensions, and etc.
How to prepare hair for micro bead extensions?

When a client is preparing hair for micro ring extensions, i-Cylinder Tip, or even Fusion (keratin bonds) extensions, they should come with their hair already prepped to cut down on service time as these installation methods can take longer than others. Advise them to bring a snack, something to read, and to wear comfortable clothes.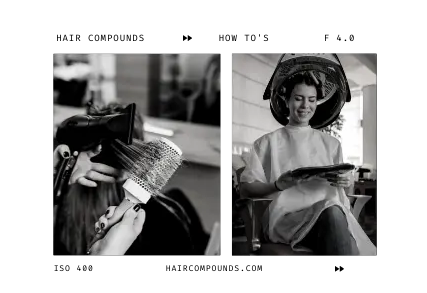 The proper prep protocol for most installations is as follows.

Shampooing hair before extensions.
Ensure that a detoxifying or clarifying shampoo is used for their hair type to rid the scalp of any product, oil, or environmental build-up. Other shampoo types will leave a residue that can cause bonds to slip. It's best to use a sulfate-free shampoo with non-irritating ingredients to avoid a dry and itchy scalp.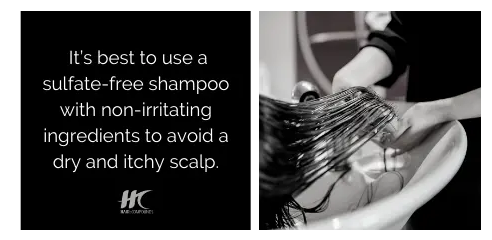 Conditioning should be done mainly on damaged or over-processed hair. Only condition the hair from the mid-shaft down and avoid the scalp at all costs. Conditioning can keep hair hydrated and strong enough for the extensions while eliminating frizz for a smooth installation.
Blow-dry for smoothness.
Blow-dry hair straight and smooth so that you can accurately place bonds throughout the scalp.

Here is a great video on How to BLOW DRY extensions, not blow fry.
How to prepare for tape-in extensions?

Like most extension methods, preparing hair for tape in extensions requires a squeaky clean, non-irritated, or flaky scalp. Hair needs to be tangle-free and conditioned at the tips. As tape-in extensions are more prone to slipping, ensure no residual product is left on the hair or scalp before installation.
Preparing hair for braid extensions

As Naturally Chelsea says in her article for CurlyNikki.com, "…for every one woman who reaches her hair goals with braids, there are several more who experience damage and breakage from this style." We're guessing these women rushed their prep. For those getting sew-in hand-tied wefts with a braided anchor, or braid extensions, the following tips are essential for keeping natural hair protected and healthy.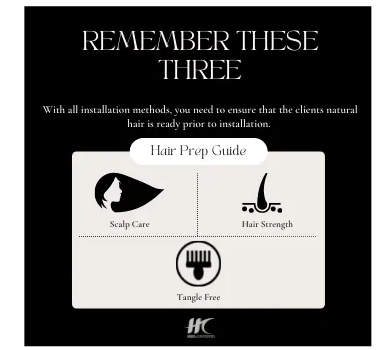 Scalp Care: Like other installation methods, the hair and scalp need to be clean and robust enough to handle the added volume of the new hair. Tight braids create added tension and stress on the scalp, so it must be in tip-top shape to receive this style. Scalp care for braids means treating issues like dandruff and psoriasis before installing the hair.
Hair Strength: Because braids limit the hair shaft's ability to receive moisture, in the article, Chelsea strongly recommends a protein and moisturizing treatment "at least twice before even thinking about braiding your hair" so that the natural hair can maintain hydration while installed.
Tangle Free: As with all extensions, hair needs to be tangle-free to avoid breakage. Remove all tangles and knots with a wide-toothed comb and your fingers before diving in.
The consultation is an essential part of ensuring success when learning how to prepare hair for hair extensions. Always confirm the return policy of your hair and double-check that it's what the client wants by testing it out before their appointment and getting their approval before the installation. The rest is easy—have a clean scalp and condition the tips! OK, maybe there's a little more than that, but we think that you've got preparing hair extensions down to a science!

Here are some added tips and resources when working with Hair & Compounds Extensions. If you love this article, please share and be sure to follow us on  Facebook, Instagram, Pinterest, and YouTube!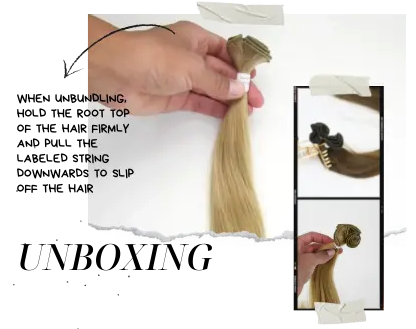 Top Tips for Unboxing Hair & Compounds Extensions
When unbundling, hold the root top of the hair firmly and pull the labeled string downwards to slip off the hair.

 

With every shipment, we include a "Hair Card" that details the origin and contents of the hair extensions, their proper care, precautions, handling, and links to our guides.

(It's like a label tag found on a delicate garment and gives critical information that should be examined and followed.)
All Hair & Compounds Extensions cannot be returned if used. No exceptions. If they're not what you or your client expects, we will send a free return label. To learn more about our policies, click here.
Download our Free Printable Hair Card below with all the links to our maintenance and coloring guides. Collection 2019 Sale 70% Off Title for image