Flat Hand-Tied Weft Extension Installation: 10 Steps with Elaine Delgado
Posted by DHPL INDIA
Elaine is a professional salon owner of Delgatti Salon and top hair stylist with over 16 years of experience in the art of hair extensions. Elaine is also a top educator who has in-depth knowledge of over 7 hair extension methods.
We had the pleasure of interviewing Elaine and sitting in on her incredible "Flat Track Hand-Tied weft Installation," at our Hair & Compounds office in Los Angeles, CA.
Elaine walks us through her installation and gives us her step by step process while also providing extensive knowledge, client preferences and crucial hair extension tips.
Be sure to read her 10 STEP process below and watch the entire flat track installation below.  
"The most important thing to realize is that you do not want anyone to know that you're wearing extensions in the first place."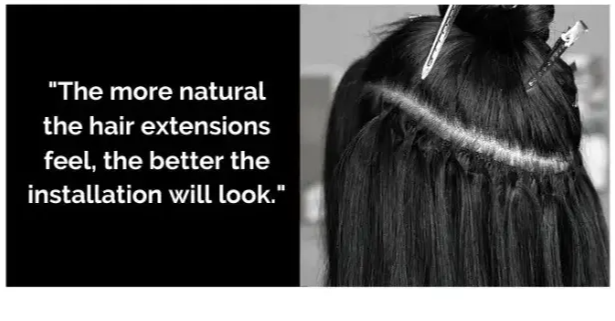 TIP #1 How to make seamless hair extensions? The more natural they feel, the better it will look. If they feel natural they will look natural.
I begin by creating sections with the clients hair. I custom select sections based on the clients head and future extension placement.
I create sections at an angle working from the front of the clients head to the back. Each section is small and it secures the sections with clips to keep those sections clean for installation.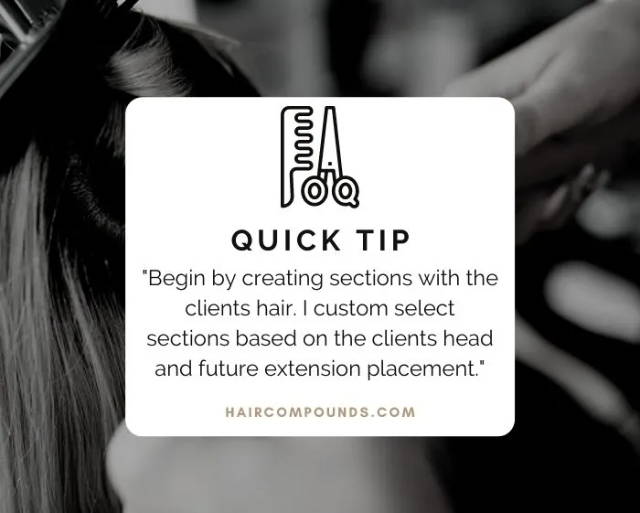 TIP # 2 The most important part about sectioning hair is making sure that there are no cross hairs as this can cause discomfort for the client and can pull out the client's actual hair.
As soon as I have clean sections, I start to place the weft where I want it to go. This is called mapping. Mapping hair extensions is very important in visualizing the placement and alignment for the installation.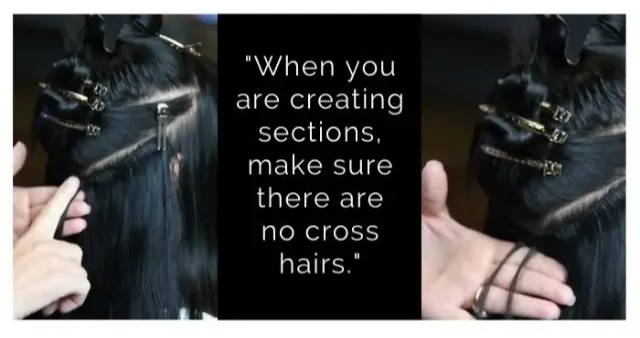 TIP #3 I always make sure that the track is even on both sides of the client's head.
After I determine the placement, I'm going to go ahead and pull up the section that I am going to be using for later and I'm going to clip it away.
TIP #4 Secure the weft track with clips
You really only have to use the clips on the first bead.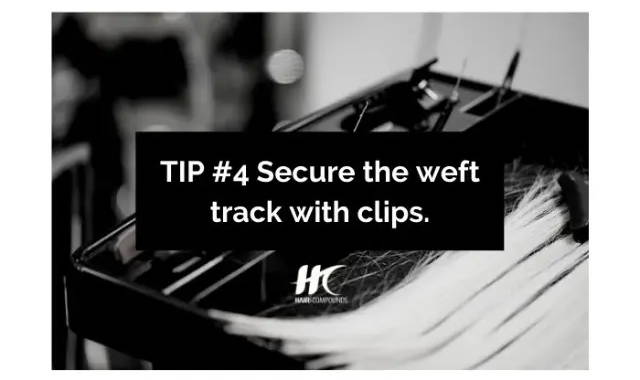 TIP #5 You're going to get a section as wide as your finger on each side and then pull a leg (a small section of hair for support) from underneath the extension.
You can do this with your hand or can do it with a tool. But you have to make sure it's right where the opening is under the weft. You should end up with two "legs."
TIP #6 Pull the section of hair down that was previously clipped. Get rid of the hair you don't need.
TIP #7 Split the hair that was pulled into the middle into four sections. Two on Top of the weft and two on the bottom.
TIP #8 Slowly, put the section into a bead and pull them through.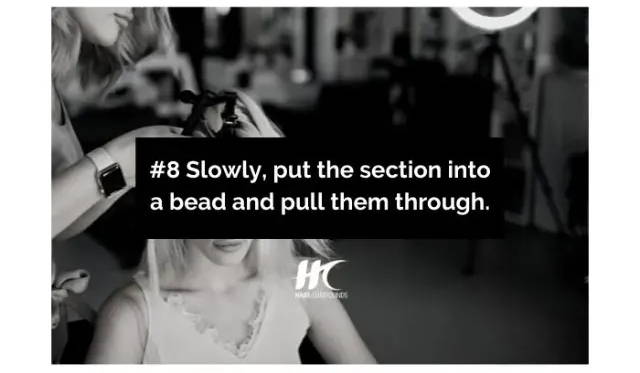 TIP #9 Pull both sides nice and snug.
TIP #10 Close the bead and be sure to check for crosshairs constantly while you are working.
Quick Tip- After the first section is secured in the middle by the first bead, you can remove the remaining clips, but it is not necessary.

TIP #11 Repeat steps 1-10 across the weft until the entire row is completed.
Make sure you do the next section very close to the other secured bead. You do not want to leave a lot of space between the beads or you'll have gaps.
ELAINE'S CRUCIAL PRO HAIR EXTENSION TIPS:

I prefer copper beads because when you open up the tube, it's not going to be distorted so it's easy to slide out. When the beads are aluminum the material is much thinner so when you go to close them they can get distorted. Also when you try to remove them it can be very difficult. If you have bad quality materials you can actually accidentally cut the hair.

I love Hair & Compounds hand tied wefts because some companies have hand tied wefts and they are super thick. Hair and Compounds hair extensions are soft, comfortable for the customer and of course last a long time. There is no tangling, there is no shedding and you can tell they are done by hand because of how good they are. This flat track hair extensions installation is wonderful for client comfort and very clean growth!
You can see more of our hand-tied wefts and how our hand-tied wefts are made here.
All of Elaine's incredible hair extension tips and advice seen in flat track weft extensions installation are just the beginning of the world of hair knowledge that she teaches every single day. Elaine is the creator of Delgatti Hair Extension Training. She has one goal in mind: to equip Salon Professionals with the knowledge they need to ensure that their business succeeds in the ever-growing industry of hair extensions.
Elaine can be reached at her website www.delgatti.com and her work can be seen on Instagram via @hairextensionsbyelaine.
We thank Elaine for giving us her insights and hair knowledge so that we can continue to share incredible hair education with our clients. Collection 2019 Sale 70% Off Title for image