Advice for Long Lasting Hair Extensions
Posted by JANE KIM
Hair Care Tips and Advice Post Installation
How do you keep your clients looking like they just walked out of the salon every day? It's all about the upkeep! Giving your clients the best advice helps them learn how to care for hair extensions and make them last--no matter the application type.
We gathered ideas and practices from some of our expert stylist partners as well as our recommendations to bring you this short list of hair care tips that will keep your clients' extensions looking good for longer.
How Long Do Hair Extensions Last?

The lifespan of hair extensions not only depends on the level of maintenance but also on the quality of the extension itself--including the application type. Typically, glued and taped extensions do not last as long as reusable sturdy hair extensions. High-quality human hair extensions can last between 9 to 12 months or even longer, depending on care.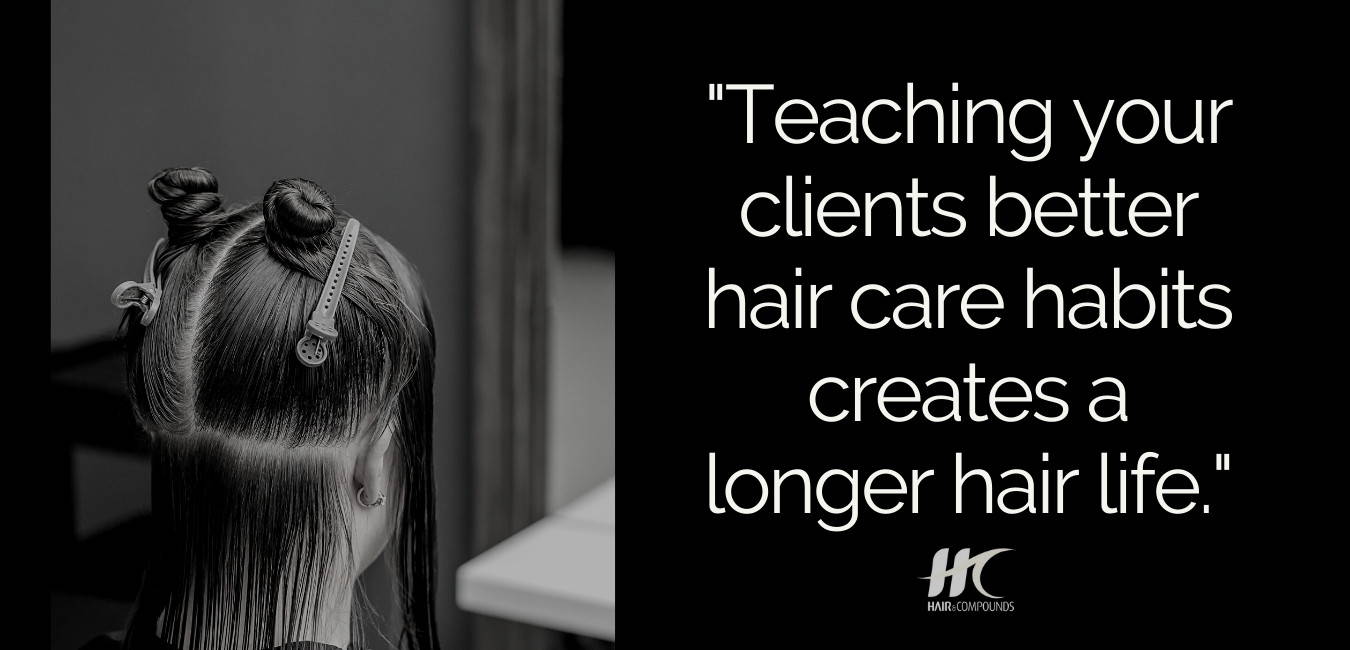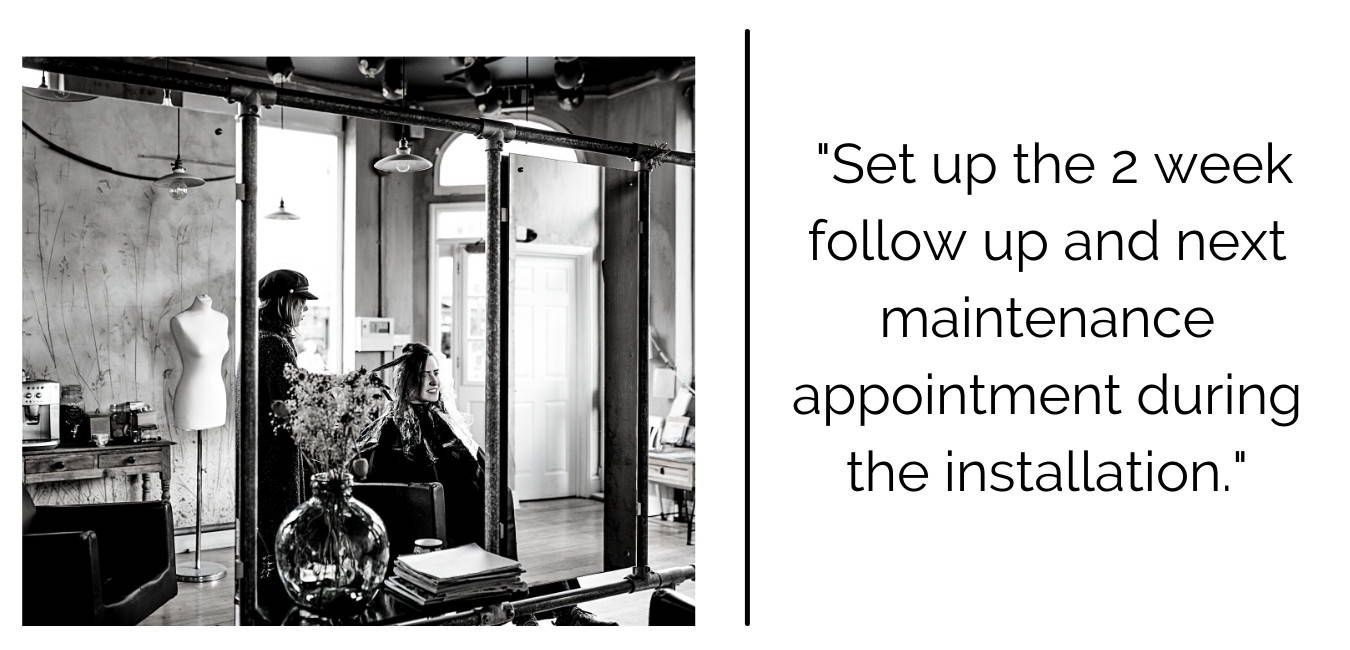 How do your clients keep their style outside of your salon? Upkeep has to be simple and effective enough to keep their extensions healthy, but it also requires close monitoring and support from both the stylist and the supplier.  
Plan a regiment of follow up care. Set up the two week follow up and next maintenance appointment during the installation.
Please make use of our Maintenance Guide that can be easily shared with your client.
Have a list of Do's and Don't ready as a handout. For example:
1. Use only the shampoos and conditioners recommended. There are specific shampoos and conditioners for extensions. Most others have parabens, silicones, oils, or other slimy stuff.
2. Do not sleep on wet hair.
3, Do not go to Hot Yoga.
4, DO NOT WASH DAILY!!!!!!!!!!!!!!!!!!!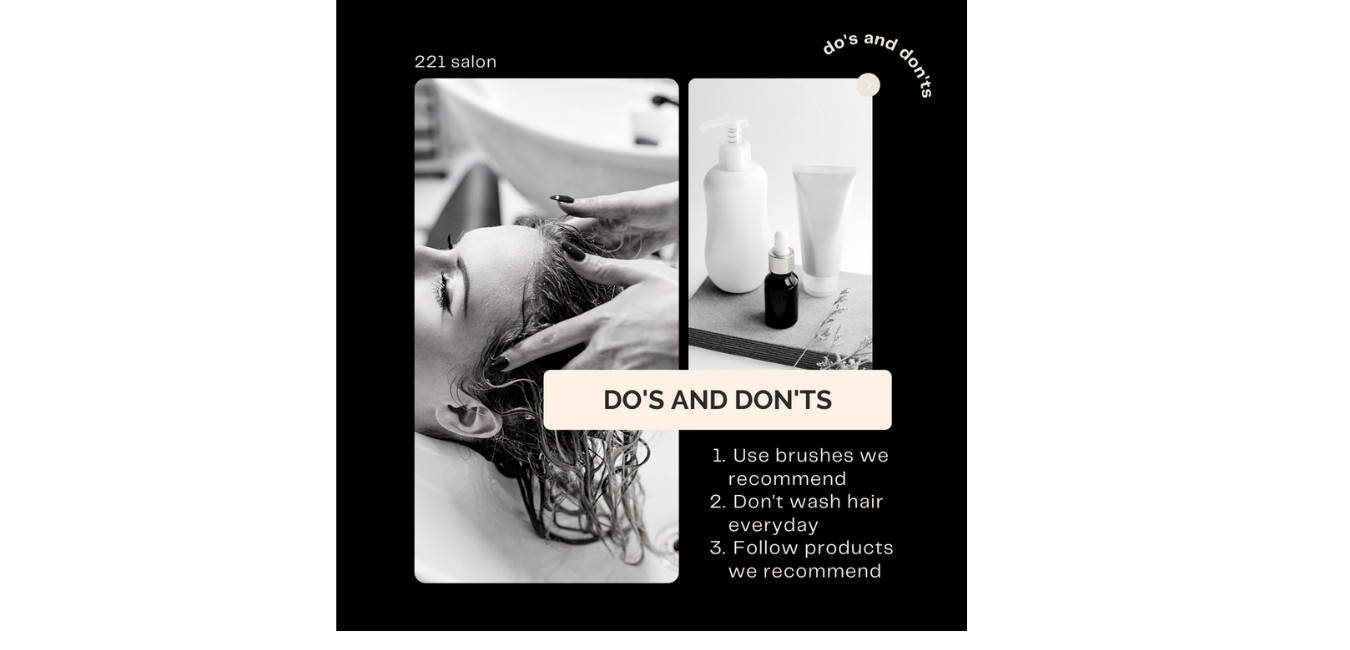 Practice in the chair. When your client comes in for their two-week follow-up appointment, you will be reviewing any issues they have had since installation. Almost always, after the first wash, blow dry, and style, they will have problems.
Ask them to bring their hairdryer and styling tools with them on this appointment. Have them sit in the chair and show you how they dry and style the hair extensions with you watching and correcting until complete. By the end, they will feel more confident to take care of hair extensions at home.
Brush Your Hair Right and Everyday!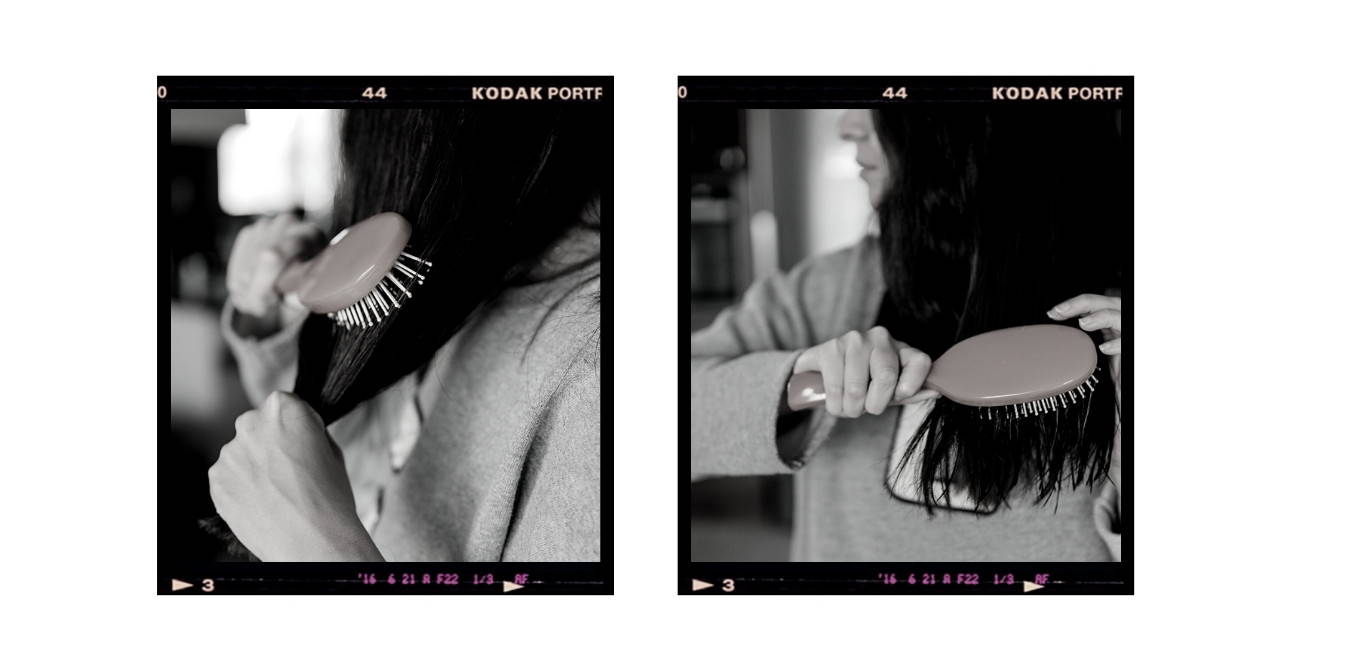 We have heard from numerous stylists about the importance of brushing. We have also seen the results of hair extensions that were NOT properly brushed by the client. It is so important to not only have the correct type of hairbrush but also to apply safe brushing techniques into the client's daily routine.
"I always recommend gentle brushing, holding the base of the extension wefts when brushing and not brushing when it's wet!" - Brittany Capis
Our hand-tied weft extensions are made with cuticle hair with the roots folded over and hanging downwards about 1" from the track. If not brushed out, from track to the ends, the root return will start to matte every day and cause tangling in the scalp area.

Hair extensions are much drier than scalp hair, but with proper brushing, the client can pull downwards scalp oils that will coat the hair extensions and help them retain moisture.

Be very careful with any hair extensions that are installed with any type of glue. Proper brushing hair extensions is still recommended, but care must be taken with oils.

For our natural curly hair extensions, we recommend wet brushing. It reduces frizz and breakage.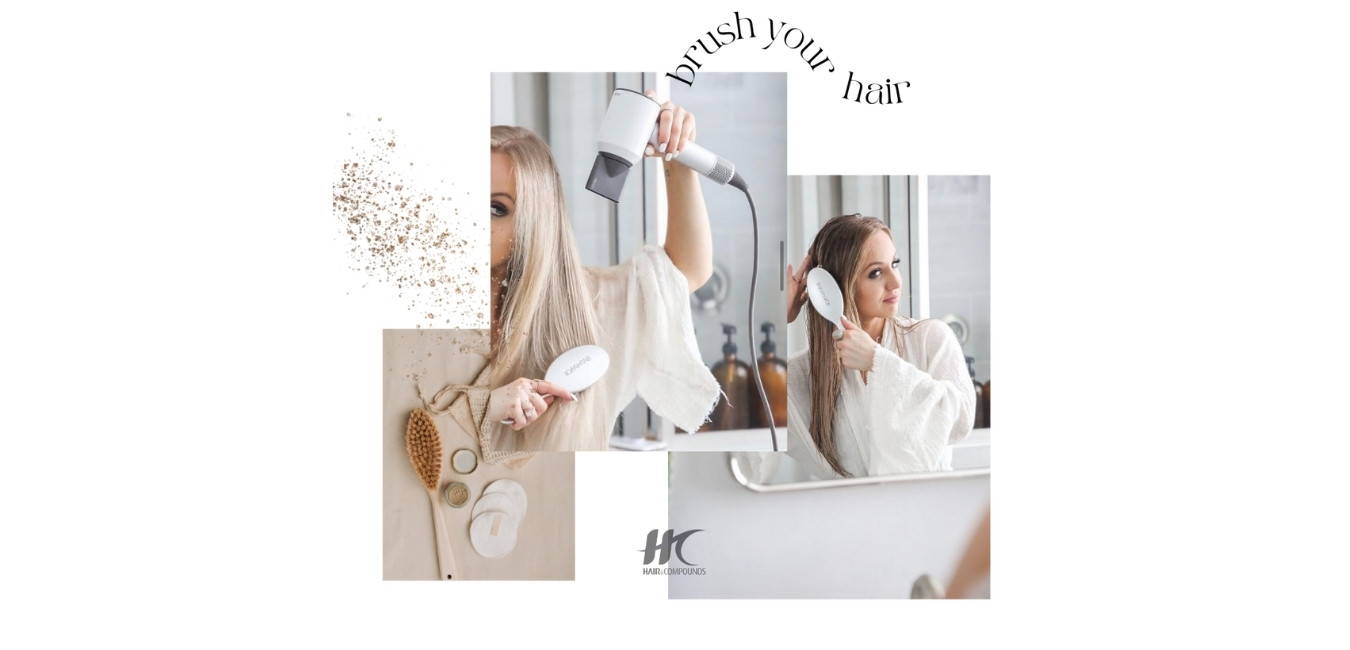 "Must have nylon long bristles and shorter boar bristles. NO OTHER KIND OF BRUSH IS ACCEPTABLE. That bristle arrangement both integrates and untangles hair and extensions without breaking ONE hair. If the brush is full of hair, GOOD! They are some of the 100 hairs humans shed on average daily. Best to get them off the head. Left without brushing them out, they will work their way toward the ends and cause little dread knots.
Even if you put oil on your ends, if you are frequently brushing as you should, the oil is now on the bristles of your brush. NO oil anywhere near Poly extension hair ever. You are brushing the bonds with the oil now." - Julie Prey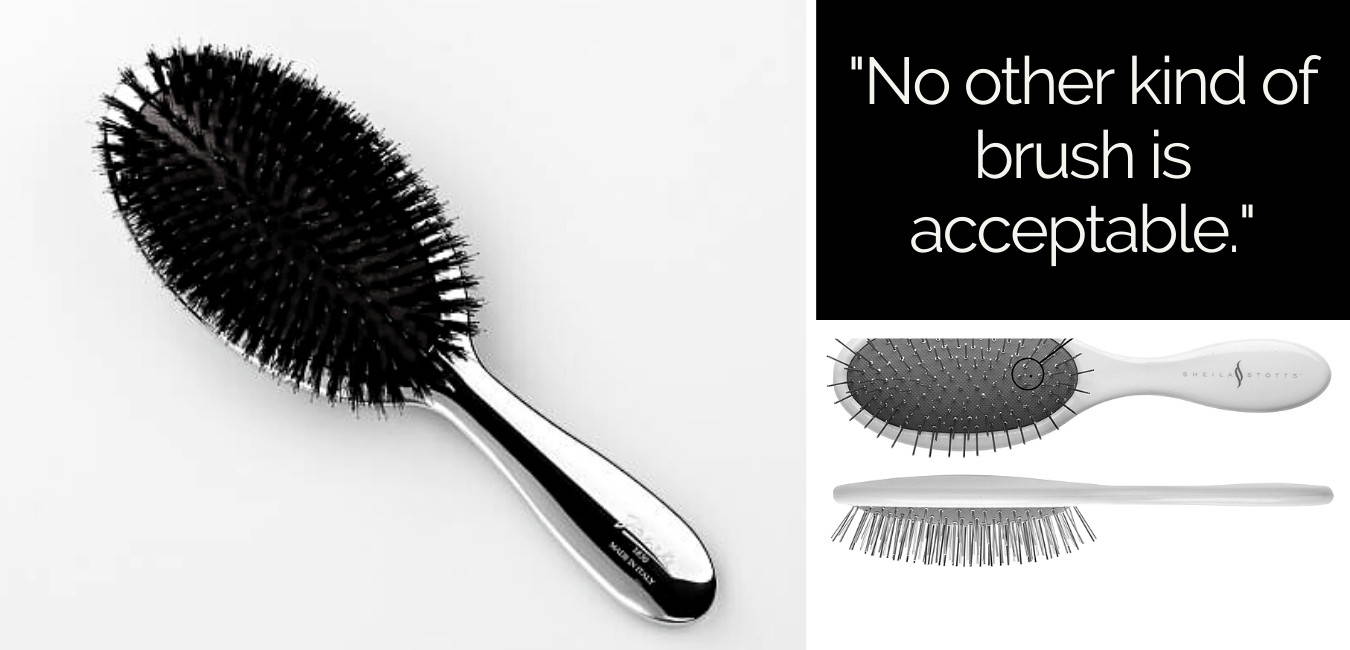 Even in production and final tangle testing here at Hair & Compounds, we use Sheila Stotts removal brush. It has a drainage hole, metal bristles and easily glides through wet hair extensions. When your client is washing their hair, after rinsing out the conditioner, they can use this type of brush to detangle and separate the hair strands.
Steer Clear of Buildup in the Hair Extensions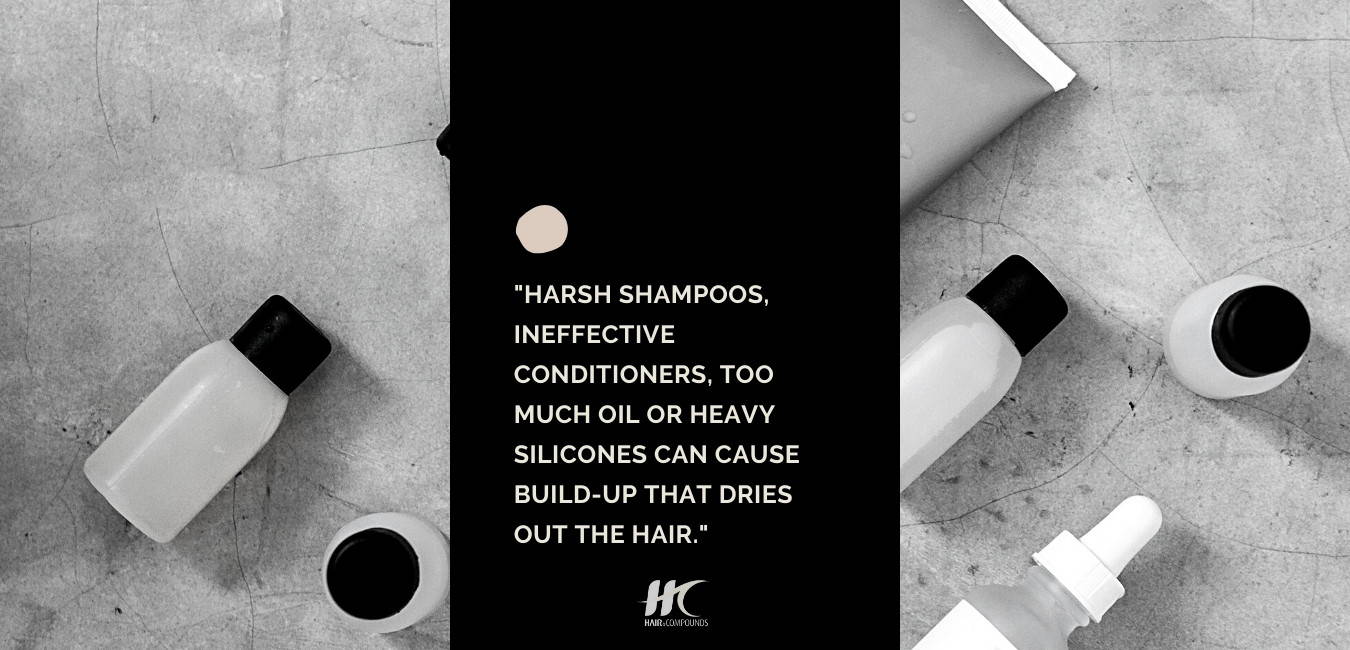 Harsh shampoos, ineffective conditioners, too much oil or heavy silicones can cause buildup that dries out the hair. Further applications of deep conditioners will not help as the hair strands are coated and continue to block out all moisture.
Products that are free from sulfates and pure alcohol. Both of those ingredients weaken the hair, leading to damage later.
Haircare buildup creates a blockage that stops any further attempts to moisturize the hair, leaving it to appear lifeless and dull. The hair will also feel rough and dry and be hard to brush due to the tangliness.
1. Do NOT use a hair mask to resolve the tangling. We've found that masks do just what they say they will...they'll mask. While it seems like a quick fix, you need a long-term solution.
2. Apply a clarifying shampoo, sometimes more than once, to remove the buildup. We recommend Kenra Clarifying shampoo as we have tested several, and this brand has proven to be most effective with removing all residues coating the hair.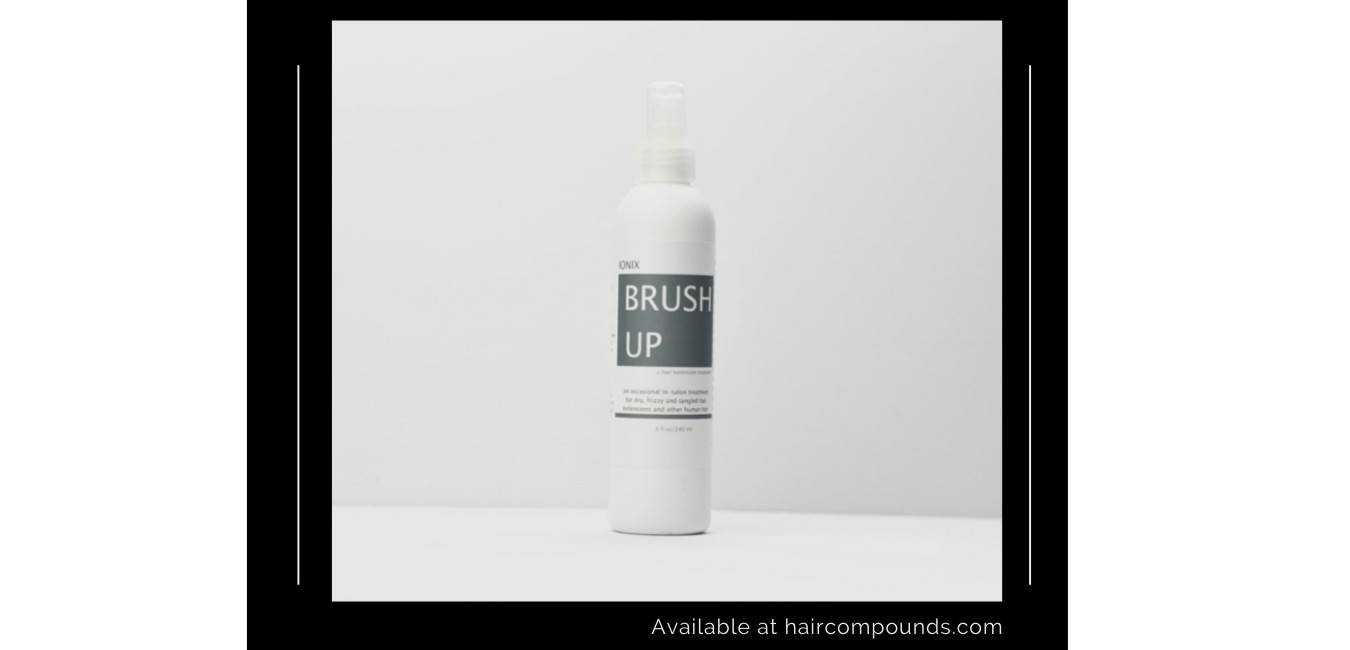 3. Apply a light conditioner to make the hair manageable while you dry the extensions.
4. When nearly dry, apply the IONIX Brush Up treatment to seal the hair and make it shiny and smooth.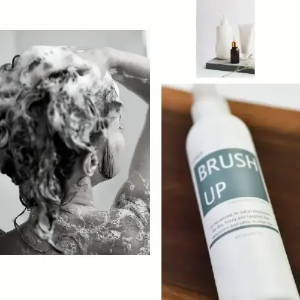 Conditioners need to perform the tasks of conditioning, isolating the hair and temporarily increasing moisture. They must not leave deposits that weigh down the hair fibers and damage the aesthetics of the hair.
IONIX Brush Up works great for tangled, dull and frizzy hair extensions. Use this product to revitalize the hair extensions after 2-3 months of wearing. It will close and seal the cuticles while giving the hair shine and softness.
Encourage Good Sleeping Habits in Their Extension Care Routine
The way that your clients' sleep will make or break their hairstyle. As a stylist, talk to your customers about their sleeping habits. There is a significant amount of friction and heat the hair is subjected to, and taking proper care of your hair can save a trip to the salon.
Here are a few things to suggest for your clients:
If your clients shower at nighttime, be sure that they dry the hair near their scalp completely. Sleeping in wet hair around the attachment site weakens the hair extensions and can lead to damage and frizzy, messy hair.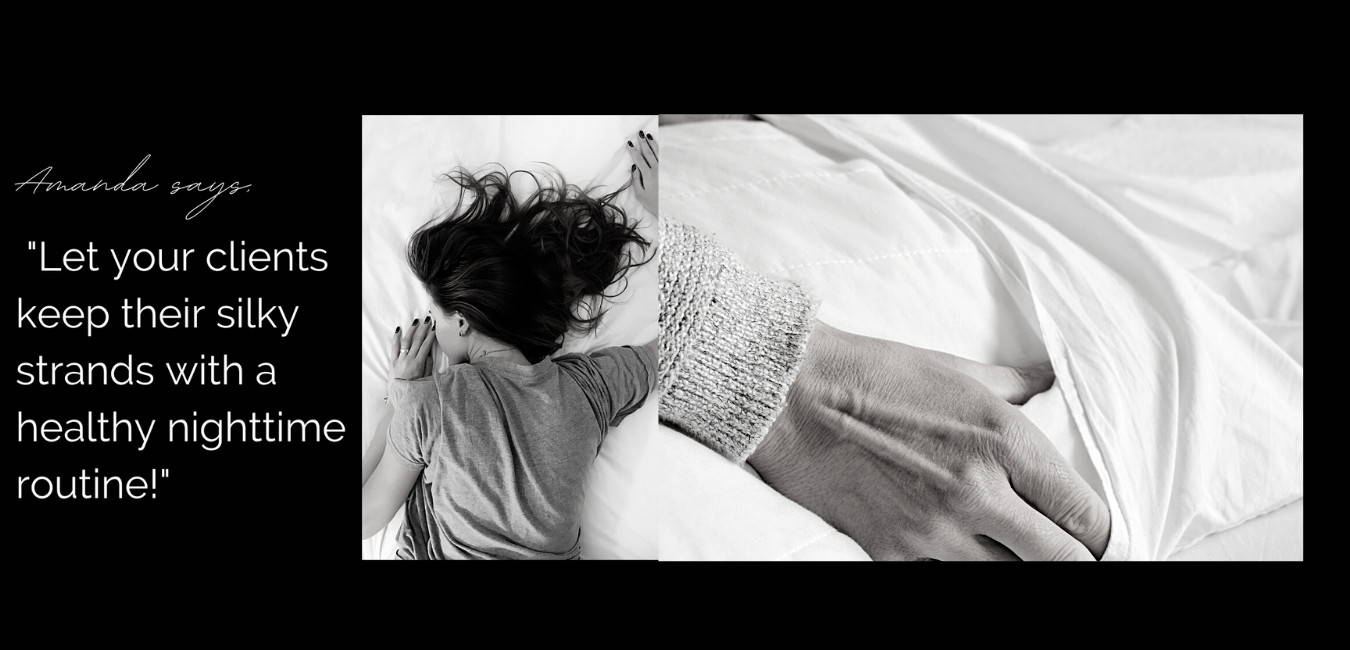 Sleeping in braids keeps your hair from tangling at night. Keeping the hair secure makes it less likely to tangle from moving at night. It is much easier to style in the morning and keep the strands healthy. Immediately brushing out from root to tip using a soft bristle brush will smooth out the hair before jumping into the shower. Be sure to brush out the very tops of weft tracks where the root return can matte together.
Gentler materials are easier on the hair at night. Bonnets are easy to throw on before bedtime, and satin pillowcases reduce friction. Let your clients keep their silky strands with a healthy nighttime routine!
"Sleep with a silk pillow case. Sleep with your hair in a low braid. Never go to sleep with wet extensions."-Samantha Campbell
Dry Hair Extensions Quickly After Showering

Extensions add layers, and the thickness makes it harder for your hair to dry. If you have low porosity hair, dry time takes even longer. Tell your clients to try their best to never sleep in wet hair!
If you choose to use a hairdryer, use a heat protectant. Donor hair absorbs heat more easily than scalp hair. It is vital to put as little heat on the hair extensions as possible.
Focus on the hair nearest to the scalp. To keep the hair extensions intact, only wash once or twice per week.
"Step 1. Shampoo. Step 2. Conditioner. Step 3 leave-in spray when blow-drying and then run through it with a flat iron to seal that coat in the extensions, leaving it silky and flowy." -Segen Gedam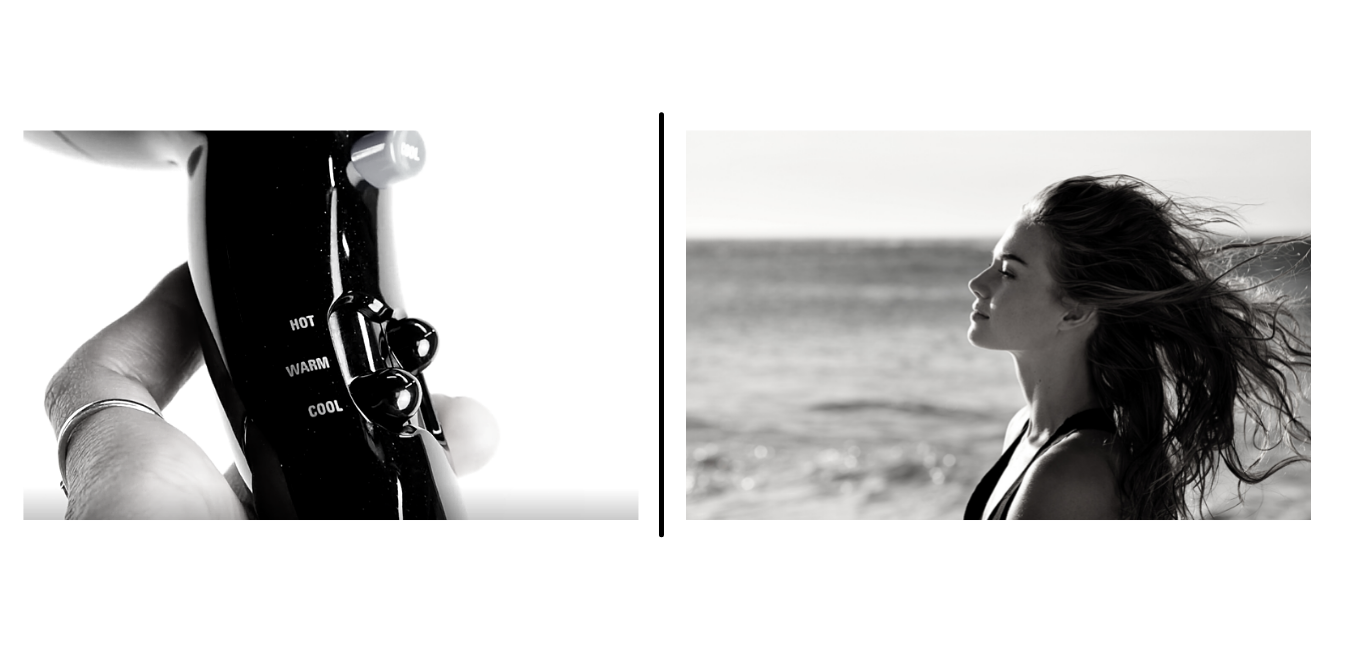 "Hi!! I always say the less heat, the better, and frequent trims are necessary even though they are extensions! Also, using quality products and hydrating masks every other wash really helps!"
-Carly Zanoni
As we mentioned before, extensions absorb heat more easily. They do not need as much heat as natural strands. Use low heat hair dryers on wash days to reduce damage. For light blonde colors, NEVER more than 300 degrees F or the delicate hair strands will burn and result in tangled hair. And most importantly, avoid blowouts as they have been the number one cause of hair extensions returns and permanent hair damage.
Salon-quality heat protectants are a must! If you use hot styling tools, low to medium settings are the best. And absolutely never flat iron or use a curling iron on wet or damp hair! A study was conducted to test and evaluate thermal damage done by thermal hair tools that demonstrate the hair surface and structural proteins are permanently damaged using high heat without a protective polymer applied to the hair's surface.
Seasonal changes also are very important when it comes to maintenance. Here are some things to remind your clients in those summer months.Try to avoid sunscreen with Avebenzone (Butyl Methoxydibenzoylmethane) + Octocrylene as they can make those extensions fade or worse turn orange.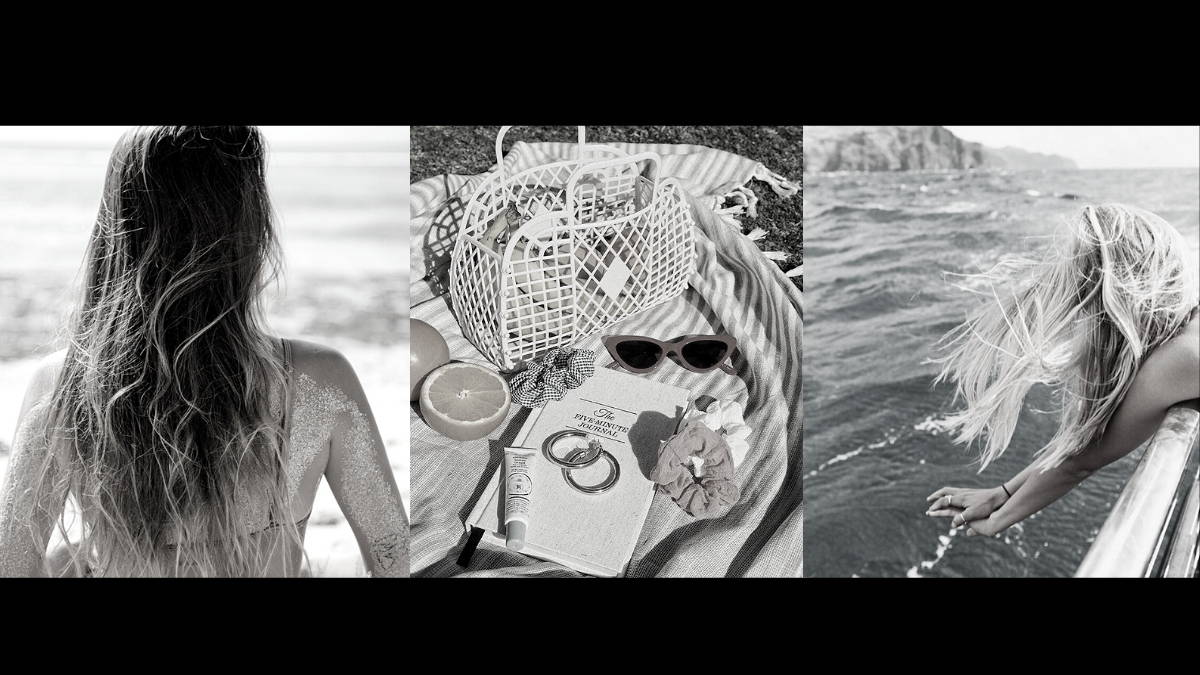 Always rinse with fresh water after swimming in a pool, freshwater and ocean water to rid that sand or chlorine that can cause color fading. Be sure to use a Professional leave-in conditioner on those extensions when swimming or after being in the ocean.
All of these wonderful maintenance tips can help with the longevity and management of those beautiful hair extensions!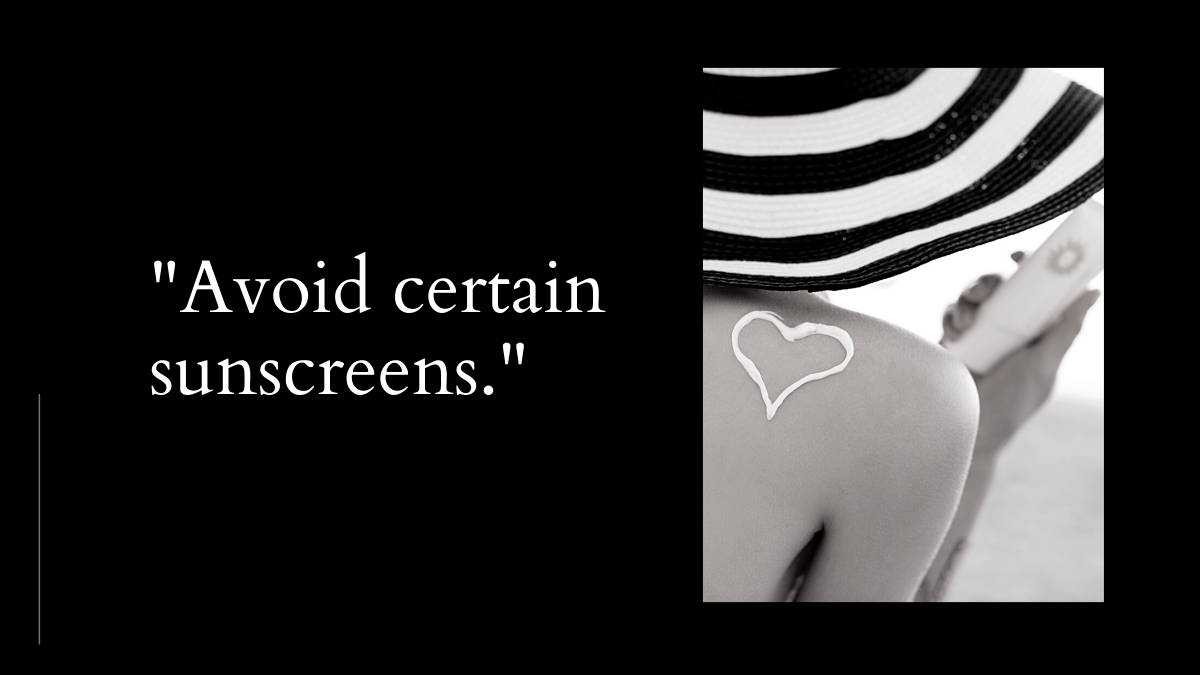 Extra TIPS for Lasting Hair Extensions

With products, Less is more when it comes to extensions. Nothing containing alcohol or sulfate. After washing, be sure to dry the wefts completely near the scalp so they don't stay wet too long- could potentially get musty. Minimal washes. Silk pillow cases.
Holly Bauer
@hollybauer
Making sure to use correct at home products especially not using protein based products
Amanda Zubia
@amanda.luxestyle
Hair extensions are similar to the natural hair but they need a little extra love and care!
Roxane Montalvan
@roxanaelenahair
I tell everyone to sleep with two braids at night to reduce tangling. I ask them to choose a heat method on wash days, either blow dryer or hot tool(not both).
Whitney Pierce
@whitney_pierce_hair
A wet brush professional with keep the hair from getting tangled and I always recommend to brush twice a day. I also recommend a good oil like Sebastian dark oil.
Christine Hime
@hairextensionsbychrissy
heat tools - they need to be set at a lower temperature. Often clients aren't aware that the heat dial is there for a reason.
-Christina Jones
@studioshe.salon Collection 2019 Sale 70% Off Title for image