Consider Brush Up for Long Lasting, Healthier Extensions
Posted by DHPL INDIA
What is the IONIX Brush Up?
IONIX Brush Up is an occasional in-salon hair extension treatment for professional use. This new treatment both prevents and solves problems of dry, frizzy and/or tangled hair extensions, hair pieces and wigs.
Brush Up is a simple spray-on, heat-in treatment that can be applied on all colors and textures. It contains a light bonding agent that calms cuticles and creates a smooth tangle free surface that lasts for several weeks. Use on any and all types of cut hair products to refresh the look and feel while extending the longevity of the hair.
1) Solves tangling by increasing moisture 35%
2) Formulated to reduce frizz by lightly coating cuticles
3) Treatment lasts until the next maintenance appointment
4) Reduced friction means fingers glide through the hair again
5) 20% elasticity increase means no breakage and split ends
Here is what our stylists are saying:
"I can tell a major difference. The blondes glow after, hair is shinier and more manageable."
"FANTASTIC product, been waiting for something like this to give the extensions their life back."
"It made the hair soft, really nice and like brand new. I am impressed with the results."
"I would definitely order it again and I want to use it again on my own hair."
"My clients are having a wonderful experience with the treatment."
"It was easy to use. The main problem I was trying to solve was dryness."
All hair extensions, hair pieces and wigs are vulnerable to dryness that causes tangles and frizz. More so than normal scalp hair even if it is made with healthy cuticle Remy hair.
When formulating Brush Up we learned that hair behavior can be measured in numbers, and those figures can help create products specifically made for extension and wig hair.
Over the past year, we trialed several formulations to reach the goal of creating a product that lightly coats and binds with the hair fiber's surface. We wanted a single product that can work on many hair types, colors and textures, and would be easy to apply in the salon.
Thanks to our on-site lab and the most important contribution of the stylists that helped test the product, we now have Brush Up. A treatment that increases combing ease, reduces flyaway, decreases friction and overall helps with body and manageability.
Always apply on completely dry hair

Always use a blow dryer on high heat to set in the treatment

Do not use flat irons on wet hair as it causes permanent damage

Avoid applying near extension attachment area

Brush Up will not cause damage to regular or extended hair
Having a professional product on hand to solve the most common complaints will put you in control of your client's hair extension experience. You not only help increase the longevity of the hair, which helps save your client money, but you are prepared instead of puzzled when the hair is not behaving according to your client.
Most clients have high expectations of the hair's performance. By providing advice on care and what to expect, you can avoid most issues that arise. Wearing and styling will always take its toll on the hair, regardless of initial quality. You can take preventive measures by pre-applying the Brush Up, or adding a new service to your menu for application during maintenance. The cost of a Brush Up application is far less than a new set of hair extensions and your client will feel confident you have a professional solution.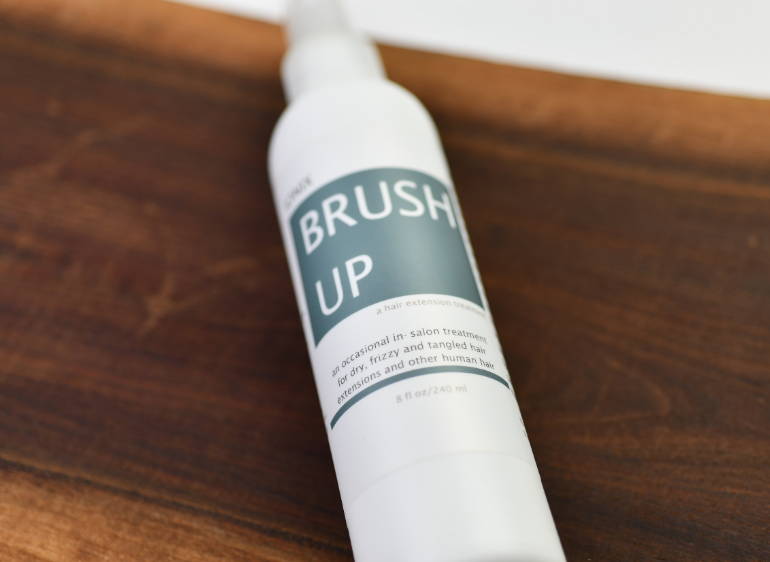 The IONIX Brush Up is a salon-only treatment, containing a lightweight emulsion of softening and binding agents that adhere to the hair strands creating smooth tangle-free hair that lasts for weeks. Use Brush Up during maintenance of the extensions to brighten, soften and help the hair last longer.
Click here to visit our IONIX Brush Up product page and order a bottle today!
Learning how to use a product from the company that made it is great and all, but it is so much more effective for stylists to hear from other stylists! Toronto stylist Anthony J. Black made a 1-minute clip to demonstrate how he uses the IONIX Brush Up treatment.
Click here to read our blog on how other stylists are using IONIX Brush Up. Collection 2019 Sale 70% Off Title for image