We have over 30 color variants to choose from and even often custom coloring options.                                                      
Our hair is 100% Indian Remy with no added chemicals to alter the natural curls.                                                                      
Natural hair has different types of curl patterns which is dependent on color and length. You may request photos prior to purchasing.
ABOUT OUR CURLY HAIR EXTENSIONS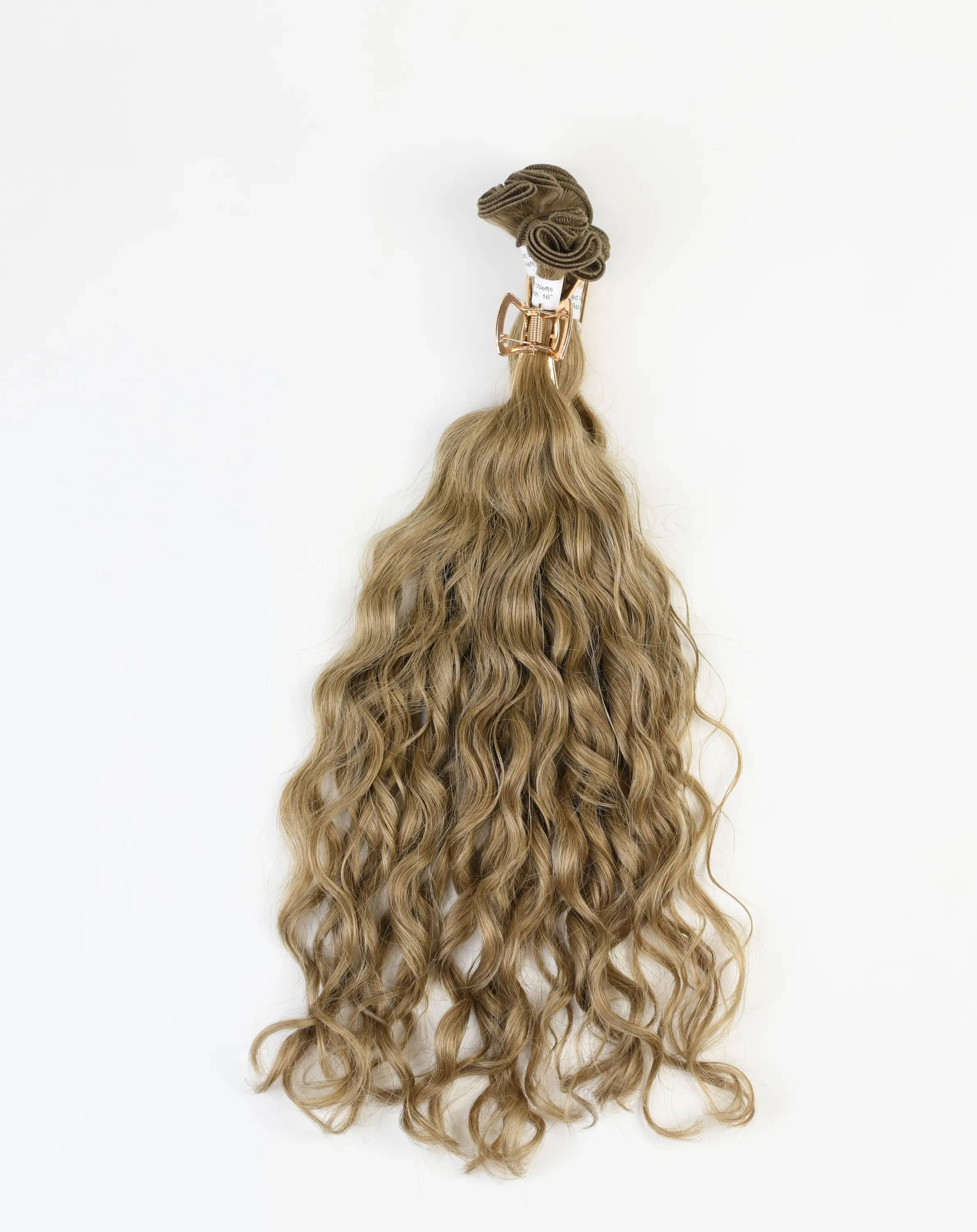 Hand-Tied Wefts (16" & 20" Curly)
Polymer Bond (16" & 18" Curly)
Cylinder I-Tip (16" & 18" Curly)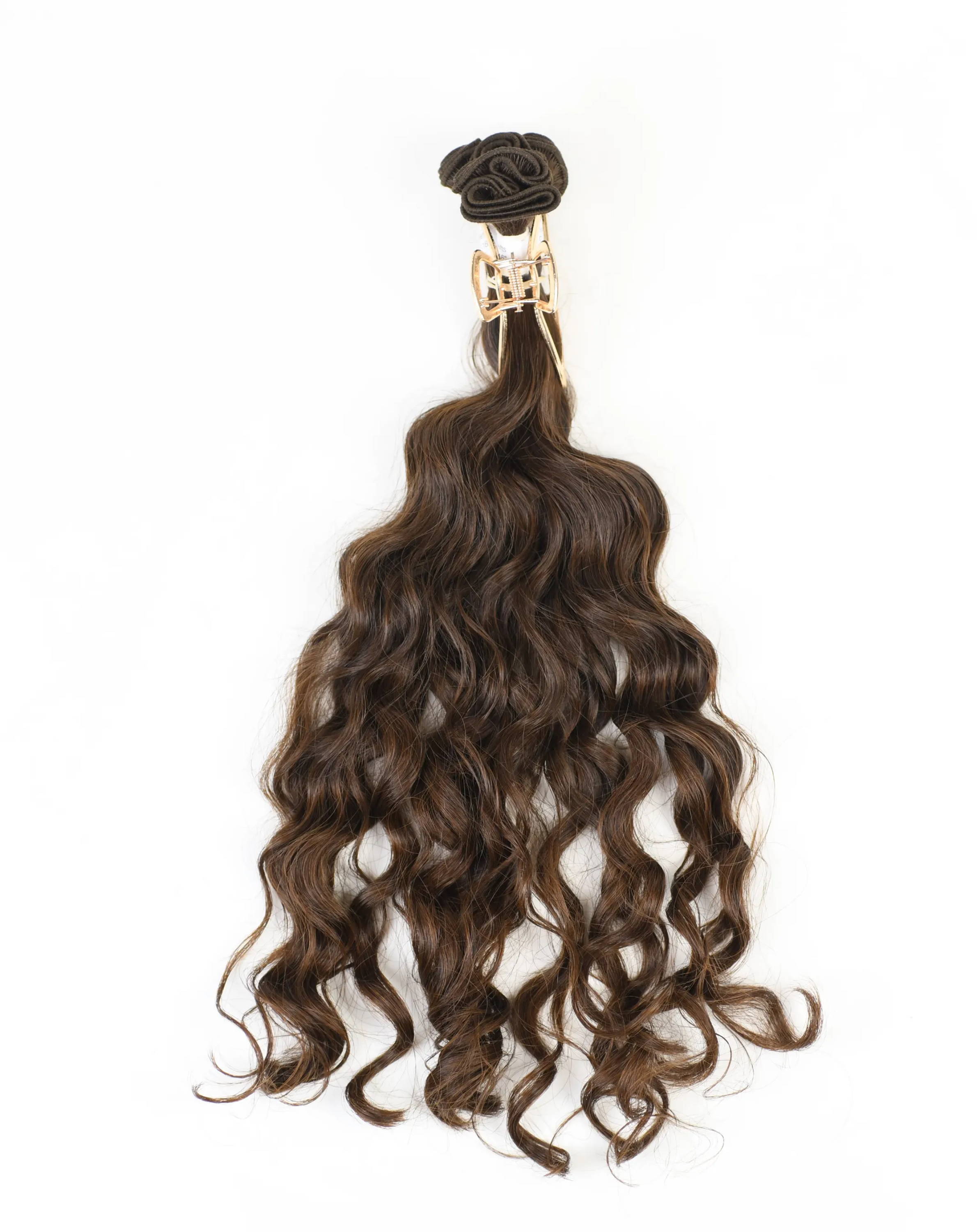 Available in single colors, blends, and rooted colors.
Please visit our Curly Weft Collection for details.
Collection with all colors as shown on our Color Swatch Set (except colors 11A , 12N or 12B).
How do you measure curly hair?

Our curly hair is natural. We don't use perms. In fact all of our hair is a natural Indian texture and comes from donors with naturally wavy hair or a natural loose curl. The processes we apply are bleaching the hair to a lighter level and depositing fiber dyes to achieve the shades we offer. The lighter the color level, the less wave or curl, because bleaching breaks the disulfide bonds and reshapes the natural texture.
Can I get really light blonde curly hair?
Naturally curly hair will not hold their curl when bleaching and tend to lose all curls beyond a level 10 bleaching process.

We we are always doing research and testing to provide the lightest natural curls.

As of right now we can currently offer an 11 Bleach but nothing lighter.

We have 7N/11B available in small quantities but you can always custom order.
Do the curls lose it's form after a while?
Naturally curly hair will not lose curl like permed hair. The only way to change the body and texture of the hair is to permanently break the disulfide bonds, which can be done with chemicals or repeated application of heat.
What colors do you carry?
Hand-Tied Wefts (16" & 20" Curly)
Polymer Bond (16" & 18" Curly)
Cylinder I-Tip (16" & 18" Curly)
Can you straighten the curly hair?
All of our hair is 100% human cuticle hair that can be easily curled or straightened. To avoid damaging the hair, do not touch the hair with hot irons when the hair is wet or damp. Use heat protectants on light blond colors, and most importantly, do not use over 300 degrees Fahrenheit heat settings.
Do you have a selection of curl types?
All of our hair is naturally curly and can range in length of curl depending upon the donors, the lengths and the color process. Each batch we receive per length and color will be all the same curl as a batch is blended together. Usually you may see a difference according to length. The longer the hair, the more loose the curl; or the lighter the color the more loose the curl. Please view our curl pattern examples with this link.
The tightness or looseness of the curl depends on the donors, how we batch blend, color and length. The roots to mid-way tend to be stretched out due to the weight of the hair. The middle to ends can be 1" ringlets to 3" deep waves. We leave it to production to mix and match donor bundles that become a certain color and length batch, so we often do not know what will be the final result until we receive the hair. All the curly hair is washed, brushed, shaken out and then hung up to dry before we label and put into inventory. You are always welcome to request photos of a particular color/length before placing an order.
Do you install the hair curly or do you straighten it first.
This is stylist preference. Curly hair extensions can absolutely be installed normally like our wavy wefts. Some stylists prefer to straighten the wefts first for their specific method but most clients will wear those extensions curly after the install.
Do they smooth out nicely or just best worn curly?
All of our hair is 100% human cuticle hair that can be easily curled or straightened. To avoid damaging the hair, do not touch the hair with hot irons when the hair is wet or damp. Use heat protectants on light blond colors, and most importantly, do not use over 300 degrees Fahrenheit heat settings. We strongly encourage to embrace natural hair and wear it as is. Although we know sometimes we want to tweak our hair out a bit different sometimes. Our curly hair is best worn as is.
Curly hair can be a lot of work, but if you are committed, you can have these gorgeous locks!
All human hair is susceptible to tangling and fizziness due to dryness, whether it is scalp hair or hair extensions.
Curly hair is a hair type that is always seeking moisture must always be moisturized in order to appear smooth.
The number one rule for curly hair extensions is you do not wash it every day.
Only brush hair when wet and always start combing from the bottom NOT the top! Lots damage/tangling can happen if not done right!

Washing your natural hair every day will get rid of the natural oils your hair produces and will dry out faster - It's recommended to have a wash day every 2-3 days.

Because our hair extensions are no longer nourished by the scalp, they are more vulnerable to dryness. When the hair is very dry, the cuticles, which look like scales, open and catch on each other. This results in the strands catching on each other and curling into frizz.
Common mistakes made about curly hair are that when the curls start to get frizzy, the first thought is the hair is damaged, but on the contrary - this is a way of curly hair letting you know it's too dry and not moisturized enough.

Here are some Curly Washing/Care Tips from Curly Prosfessionals:
1. Applying a shampoo to the roots only and lightly pass it through the ends
2. Apply conditioner to the hair (only the bottom half of the hair) proceed by brushing the hair out with a wet brush and let it sit for 2-3 minutes then wash off.
3. Dry with a polyester towel or a T-Shirt. (Cotton damages hair and causes breakage)
Wash hair with clarifying shampoo at least once a month to remove build-up of products.
4. Always brush hair when WET. Never brush curly hair dry or else it will create a frizzy nightmare.
5. Either use a wide tooth comb, a wet brush(brush for the shower), or any brush with wide open bristles so you can comb through knots.
6. To maintain smooth and bouncy curls it's suggested to get a good leave-in conditioner & hair oil for curly hair.

Here are a few easy steps to style and maintain:

1. Soak your hair with water or Spray a good amount until damp.
2. Brush out any knots - make sure to start from the ends!
3. Then apply the leave in conditioner to the bottom half of your hair (DO NOT APPLY TO ROOTS)
4. Brush hair out again to spread product with a curl styling brush like a denman brush.

To Style your curls brush out in the direction you want them to swirl and give them a good shake to promote curling - for extra volume, brush with head facing downwards and brush out and shake.
Bonus Styling Tip: For Extra definition make sure you brush out in sections!
5. Next, apply your preferred hair oil for curly hair to the ends and scrunch it in.

If you want to calm down wild hair on the top, use the left over oil on your hands and smooth the area downwards. (Be careful with Poly and Cylinder strands as oil will breakdown the bonds)
6. Lastly, just let it air dry or blow dry/diffuse and voila! Beautiful bouncy curls!

Happy Styling!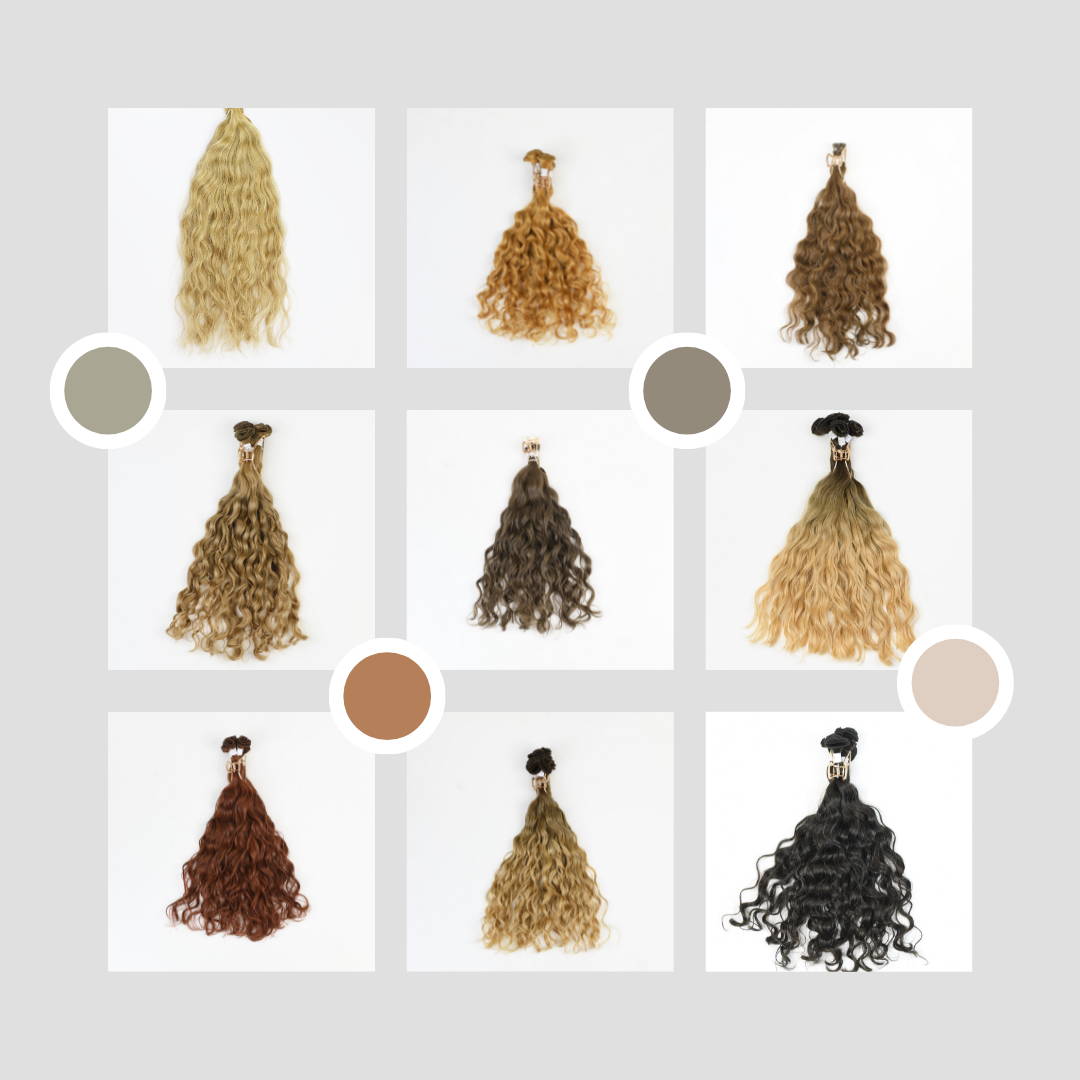 Straighten our curly hair extensions just like your client's natural hair.
Straightens in the same way your clients hair will.
Based on humidity testing, hair will hold its shape.
Wash the hair and it will return back to its natural bounce.
Here's a quick in-house tutorial that shows how curly hair behaves during straightening. The straightener was set to 275 degrees with smooth strokes for each section. It was then washed and sprayed with the Ionix Maintain Color, bringing the extension back to its beautiful bounce!
Straightening Curly Wefts

Before & After Washing Curly Hair

FREE DELIVERY
OPTIONS AVAILABLE
FREE RETURNS
WITHIN 30 DAYS
RISK FREE
BUY MORE THAN YOU NEED & RETURN EXCESS
ONLINE SUPPORT
SPEAK TO ONE OF OUR TRAINED TEAM MEMBERS