Safer, Faster and More Options
We have changed payment processors to a safer and more secure payment server. Although the checkout page will look nearly the same to you, there are now small additions that will save you huge amounts of time!
No need to re-enter your credit card information every time you order.
No need to wonder which credit card you last used.
A major change that will affect some customers is that we will no longer keep records of sensitive credit card information on file or accept text or emailed images. With our new payment system, you can use accelerated check out with secure servers to store your card.
Just enter your credit card information on the payment page and Shop Pay processes the payment. Select the Remember Me check box to save your card information.
Select the Apple Pay button to complete your payment with the card you already have saved with Apple.
You can still select PayPal as a payment option, but our server will NOT save your information as it is stored under your PayPal account.
More details about accelerated checkout options:
1. Shop Pay is an accelerated checkout that lets you save your credit card shipping and billing information so you can complete your order faster next time. Select the Remember Me prompt.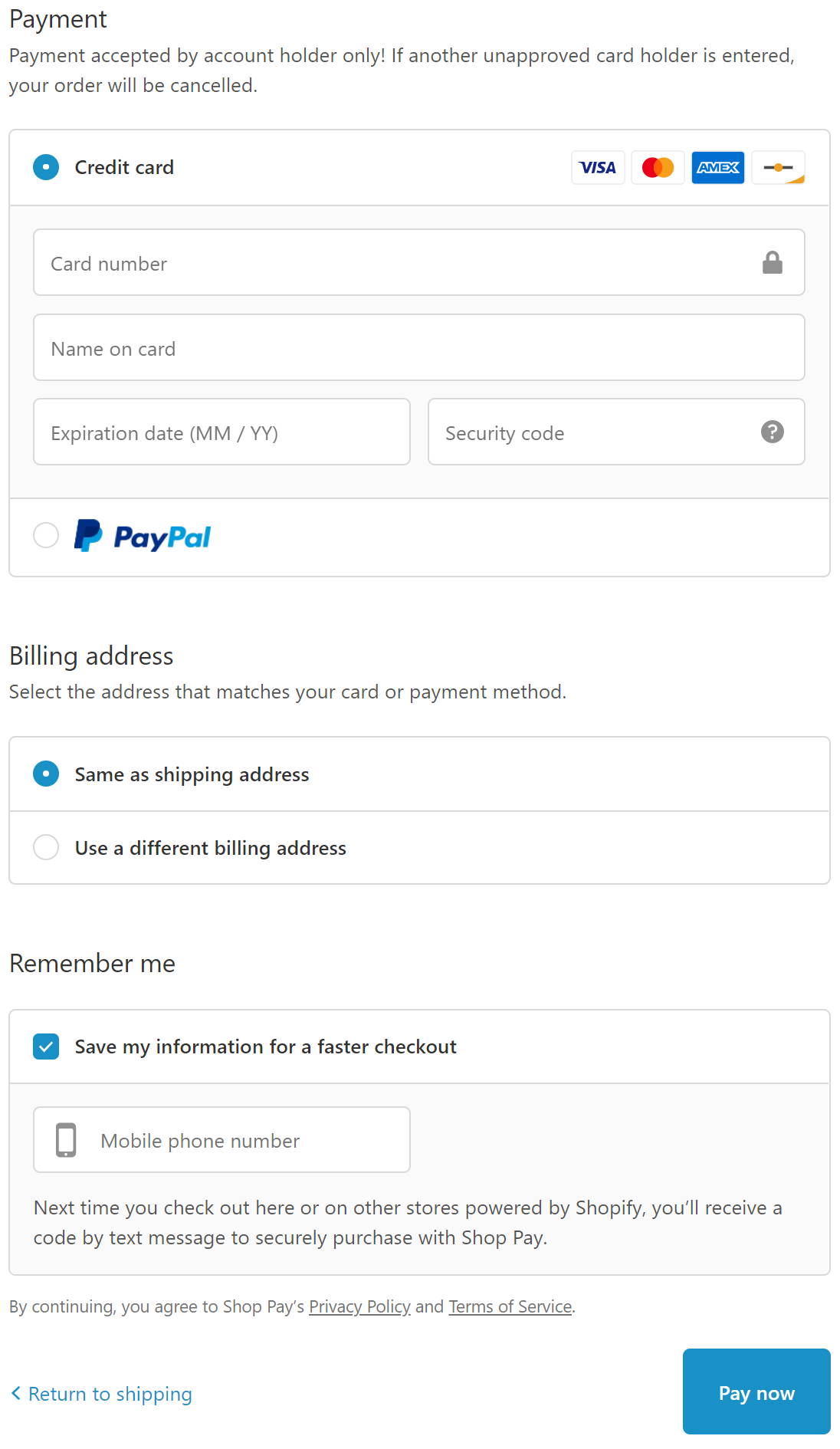 Your shipping and billing information is securely stored on Shopify's PCI compliant servers and is only shared with us if an order is placed. If you have questions about how Shop Pay works, or how your data is stored, then you can go to the Shop Pay Help page.
2. Apple Pay lets you pay easily and securely. With Apple Pay, you can check out by using Safari on the iPhone, iPad, and Mac.
No need to manually enter your credit card information or shipping address. Just tap the Apple Pay button and scan your fingerprint, and Apple Pay provides that information to our payment provider.
We do not accept payments made under another name. If a credit card under someone else's name is submitted for a pre-authorization, the order will be cancelled.
The only exceptions are if a salon owner/manager has completed an authorization form listing those people who are allowed to use their credit card for ordering.
Here is the link to complete the form: Order Authorization Form