Hello,
My name is Candice and I'm the content manager of Hair & Compounds. Some of you may have spoken with me via social media, phone calls and even in-person visits, while others are only familiar with my work.
As a full-time content creator, I'm very protective of my work--and yes, even memes, are work. Whether you'd like to claim the title, as people promoting their work on social media, you are content creators too. When I see my product that I ideated, formulated, drafted and executed, has been stolen, I have every right to be annoyed. With all the reposts going on in the social media realm, sometimes that's all I can be. However, even with all the grey areas of social media, there are moments when you and I can and should do more than just roll your eyes and keep scrolling. Those moments, specifically, are when a profit is involved.
Back in March, something happened. A customer of ours reached out to us that another supplier was trying to "steal" her. At first, when we saw that they name-dropped our brand and were clearly targeting our audience, we got a laugh out of the screenshot she sent. I'm so grateful for the loyal hairstylists that work with us because if we didn't have them, we would be blind to incidents like this. While this particular hairstylist thought she was just giving us a heads up about some potential competition, it was a lot more sinister than she realized.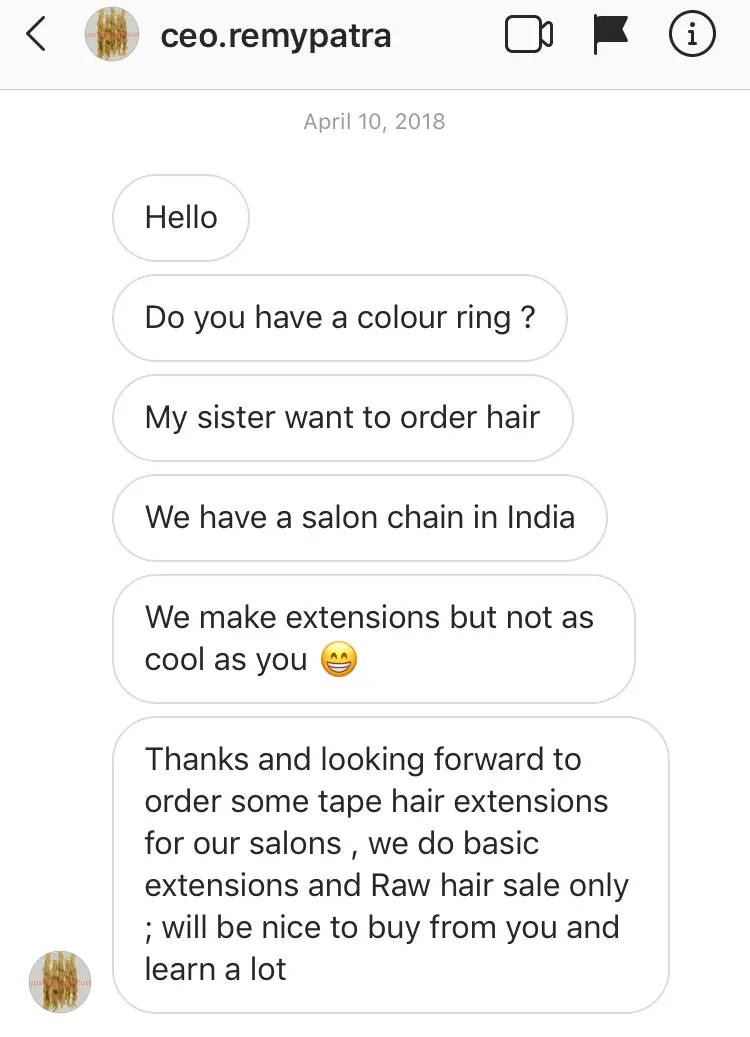 We DMed the account because their catch to get hairstylists to purchase from them was that, unlike your current suppliers, they don't use a middleman to manufacture their extensions. The issue? Neither do we. As anyone that's spoken to our team or looked at our website knows, all of our hair comes from our own production house in Chennai. The response we got was not at all friendly (we ended up reporting their response due to violent phrases), making it all the more laughable that this same account had reached out to us a year before.
Out of curiosity, I took a look at the account that DMed her. For the most part, their posts were pretty standard for a hair supplier: bundles of hair ready to order, happy clients and pretty hair. Because it was the CEO's account, he also featured himself pretty often. Just as I was about to exit, I recognized the background of a hair post.
It was our wall. Within a few minutes, I found the original video posted on our Instagram in 2017. Before they took it as their own, they had cropped out as much of our former Instagram manager, Jamez, as they could. The captions were all the same: a call to hairdressers in the U.S. and U.K., letting them know (ironically) not to trust their current hair suppliers, that their hair was superior and their company was #1.
I scrolled a bit more and found 3 more of our pictures being used as promotion for their products, with no clear indication that it wasn't their hair. Even worse? This company had at least 5 accounts, all using our pictures.
It goes without saying that posting photos of our hair as one's own, and then going as far as reaching out to our customers, is not the same as reposting a meme without credit. If you're thinking "Surely, Instagram wouldn't allow this?" You're right.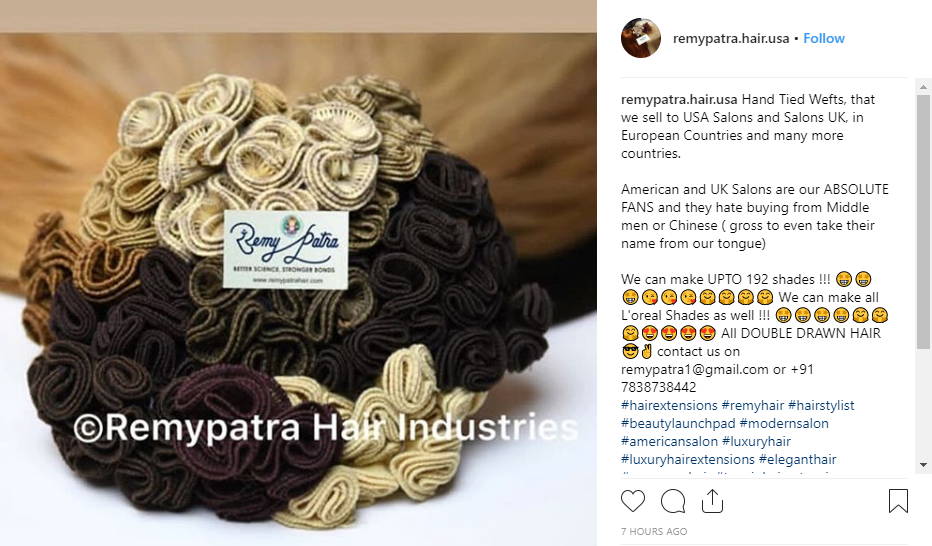 Luckily, Instagram has a way to report for copyright infringement. The process is fairly easy, but--should you ever be put in the same situation--I would like to warn you:
It's easier to file this claim online: https://help.instagram.com/contact/372592039493026
You'll need proof that the material is yours: Luckily for us, all photos we post of our hair are taken by us, so we had all of the original files. For the photos we couldn't find in our database, we were able to link to our original post or the page on our website where it was taken from.
There isn't an exact time period for Instagram's response: some posts were taken down within less than an hour of my report, while others took up to a week.
Instagram will notify the offending party and include a copy of your report: unfortunately, this aggravated our situation. Saying that the offenders "doubled down" would be a heavy understatement. Instead of allowing Instagram to remove our posts from their accounts, they added their logo and name with a copyright symbol to combat the claims. That's not how copyright works, but we weren't surprised. The first line of that threatening message I mentioned was "Your laws dont [sic] apply to me India and this is social media." Between March 20 and April 29, I filed more than 8 copyright claims (each included more than 5 posts) against this company's accounts.

How did it end? Most people would give up after one copyright claim, but as this company chose to be a repeat offender, I emailed Instagram and including the copyright forms from each of my claims (they email you a copy anytime you make such a report). Some of the accounts were completely removed from the app, while the ones that had the least offenses remained. That sufficed for me to block the remaining accounts and, once I was sure they hadn't stolen any more of our posts, move on with my life.
How do we protect ourselves now? We did try hiding watermarks of our Instagram handle at first, but it was hard to be consistent with a slew of coordinators creating content simultaneously and sometimes, it felt like it ruined the image. Now, we're working toward a clear social media concept where someone could see a picture and, without hesitation, think, "Oh, that's Hair & Compounds." Until then, we still throw in the occasional watermark and monitor accounts we interact with much more frequently. We've also started to repost old photos so they are more recognizable in case one of you comes across them on another account.
Why am I sharing this now?
As you may have noticed, I had those screenshots ready. This blog has been at the back of my mind for months, but it wasn't too much of a priority...until I saw it happen to one of you. Especially with all of these advancements in apps and technology like the camera upgrade with the iPhone 11, I wanted this info out for any of you that are about to step up your social media game.
When I saw this post, it immediately struck a chord.
I reached out to Dana Rollo of Cloud Nine Hair Lounge while writing this blog and she was kind enough to share more about her experience:
Q: How did you notice your work was being stolen?
A: I'm in an Olaplex users' forum and I saw photos of my work circulated around by a pretty big stylist presenting it as her own.
Q: If you don't mind sharing, what did you do to get the posts taken down?
A: I voiced my concerns to Olaplex as soon as I saw it, and they did whatever they could to help me, including banning her immediately.
I sent her many messages asking to please delete my photos. To this day, I still don't know if they are being used or not because she blocked me on social media.
Q: Do you do anything to protect your content now? If so, what?
A: I now watermark all of my photos to try to prevent anyone from using them, without giving credit.
How can we share work without being accused of stealing?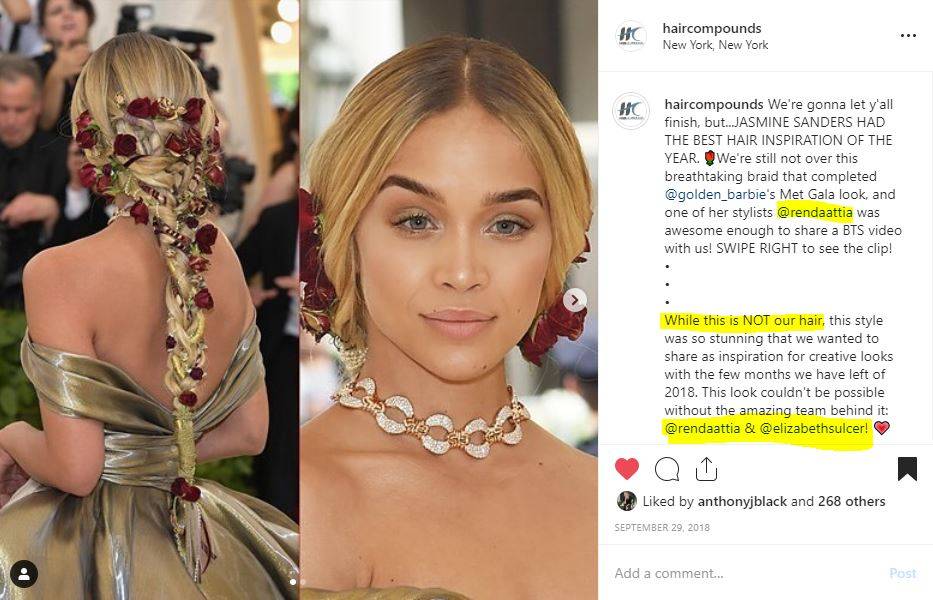 We've shared hair that wasn't ours as inspiration, but to ensure that we weren't doing anything wrong, we've always made sure to take certain steps before posting:
asked permission
tagged the originator in the post AND mentioned them in the caption
included a disclaimer to avoid any confusion
Memes and quotes are a different story because they have been so highly circulated that it can seem impossible to find the originator, but that's a story for another day.