Britney Spears once said,
"There are two types of people in the world..."

For the sake of this blog, those types are extensionists* and hairstylists that do extensions*.
*These definitions are, of course, made up for the purpose of this blog.
Hairstylists that do extensions perform this service rarely. They know their stuff, but they don't have enough extensions clients to keep a regular stock, nor do they plan to expand their extensions clientele.
Extensionists have made hair extensions their craft. Most or at least a large portion of their clientele wear extensions so they order hair often. As an extensionist, keeping bundles of hair in stock could save you from having to order so frequently or make a last-minute order. A stock of extensions could even help convince your non-extensions clientele that they should give them a try because they're able to see and feel for themselves! As an extensionist, you need a hair haven.
For those that have visited our supply house, you know we keep our hair organized in two ways: in a bin or on the hair wall. Both are practical and neat.
Bins are better for large stocks of hair organized by length, color, and type, and easy to sort through. A hair wall is great for small stocks, takes less space and is all-around more aesthetically pleasing.
Because it comes down to the individual stylist or salon, here are instructions on how to make both: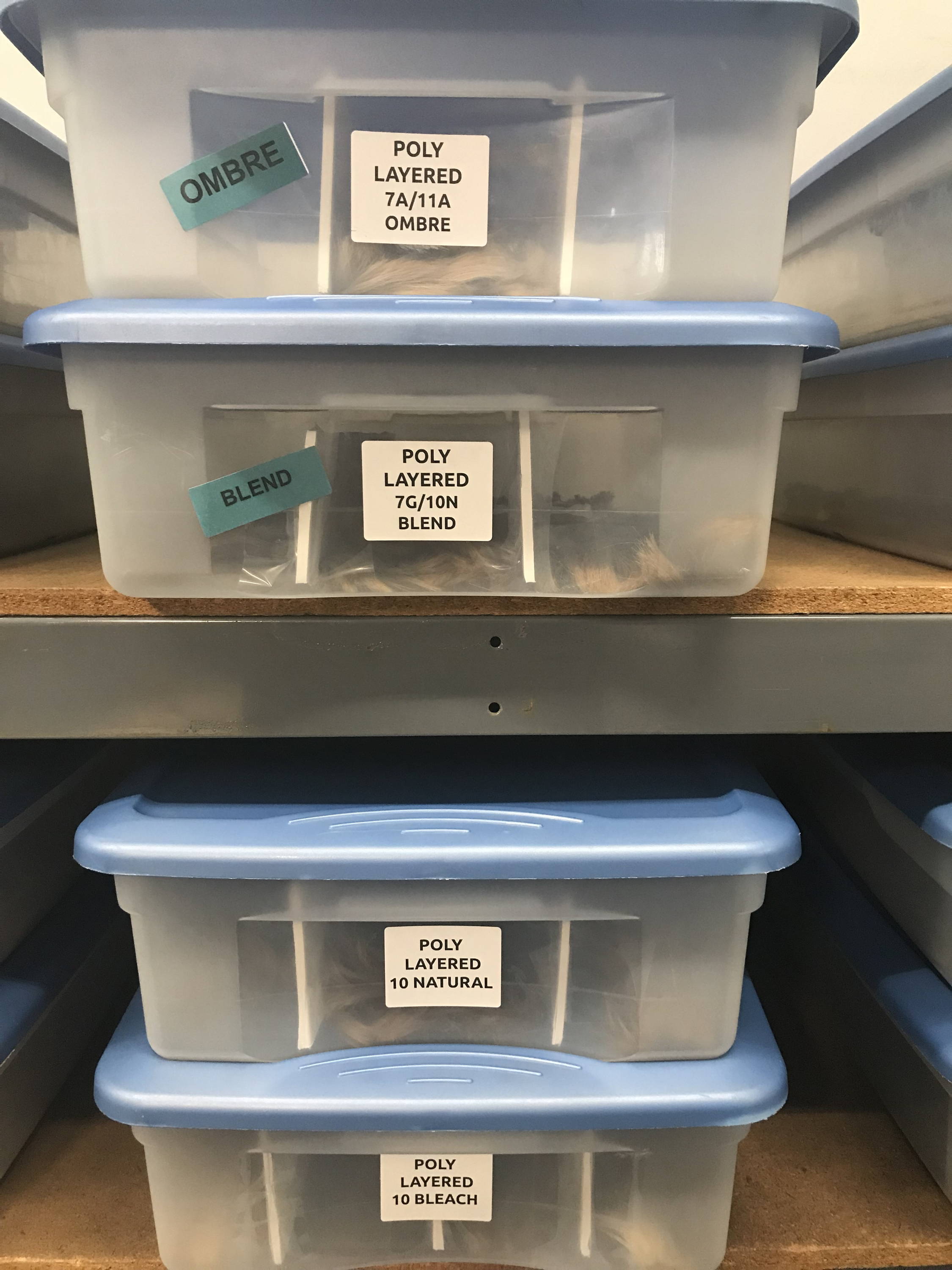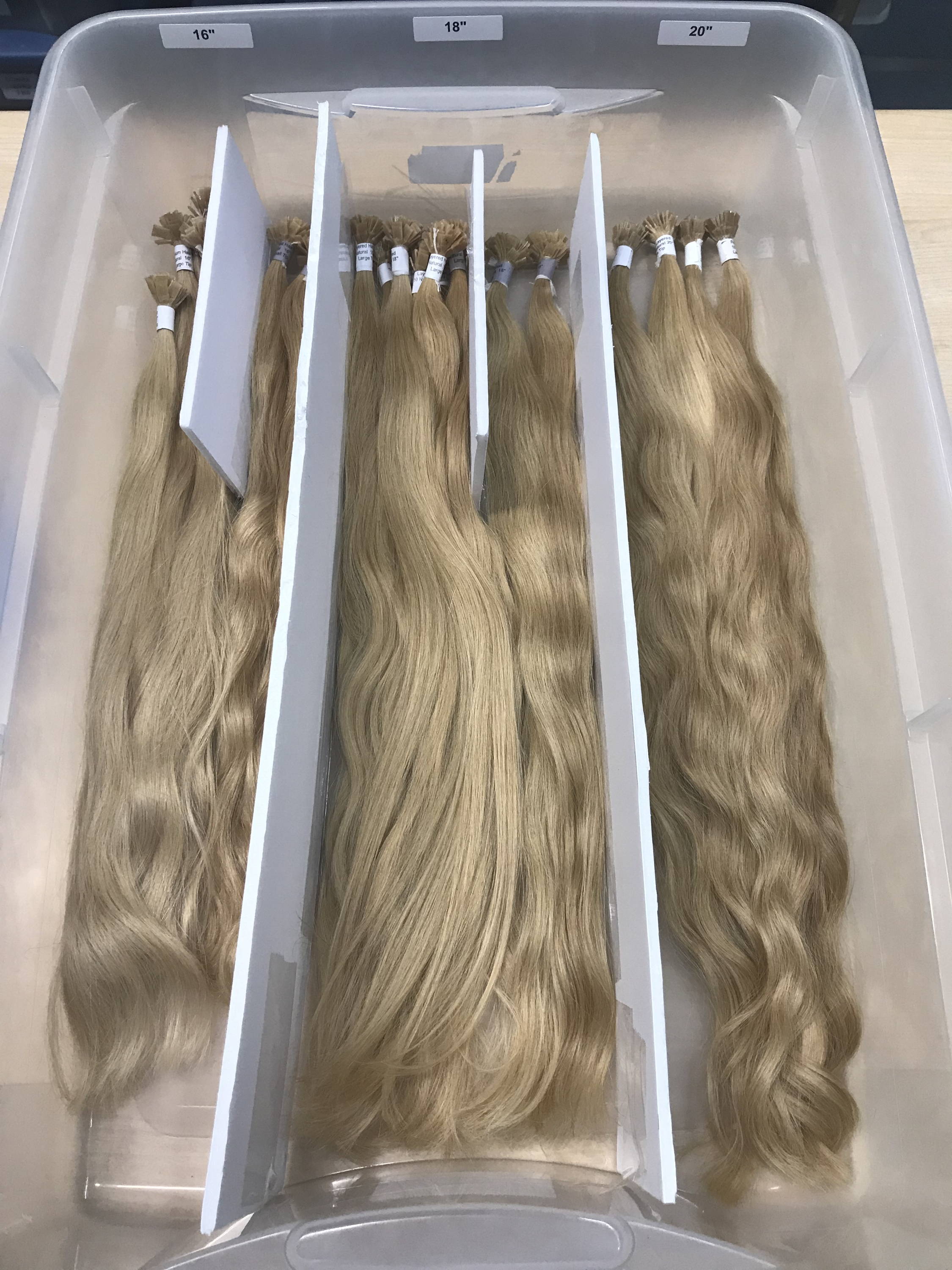 What you'll need:
Decide which main category should rule how your extensions are sorted. For us, hair is only in the same bin if it's the same extension type, color and texture.
Once you have the main categories of the bins, choose a subcategory for how the hair will be sorted inside the bin. This will decide how many dividers you will need to make from the foam boards.
Measure your plastic bins by length and height to know how long and tall your dividers need to be. According to these measurements, cut your dividers out of the foam board and tape them into each bin.
Label the outside of each bin based on your main categories. Label each division on the inside of your bin based on your subcategories.
Voila! You're ready to store your hair :)
Hair can be stored loosely but when you have a lot of bundles in stock, you may want to use rubber bands. You can also use rubber bands and put a name tag on hair that you have ready for an upcoming appointment.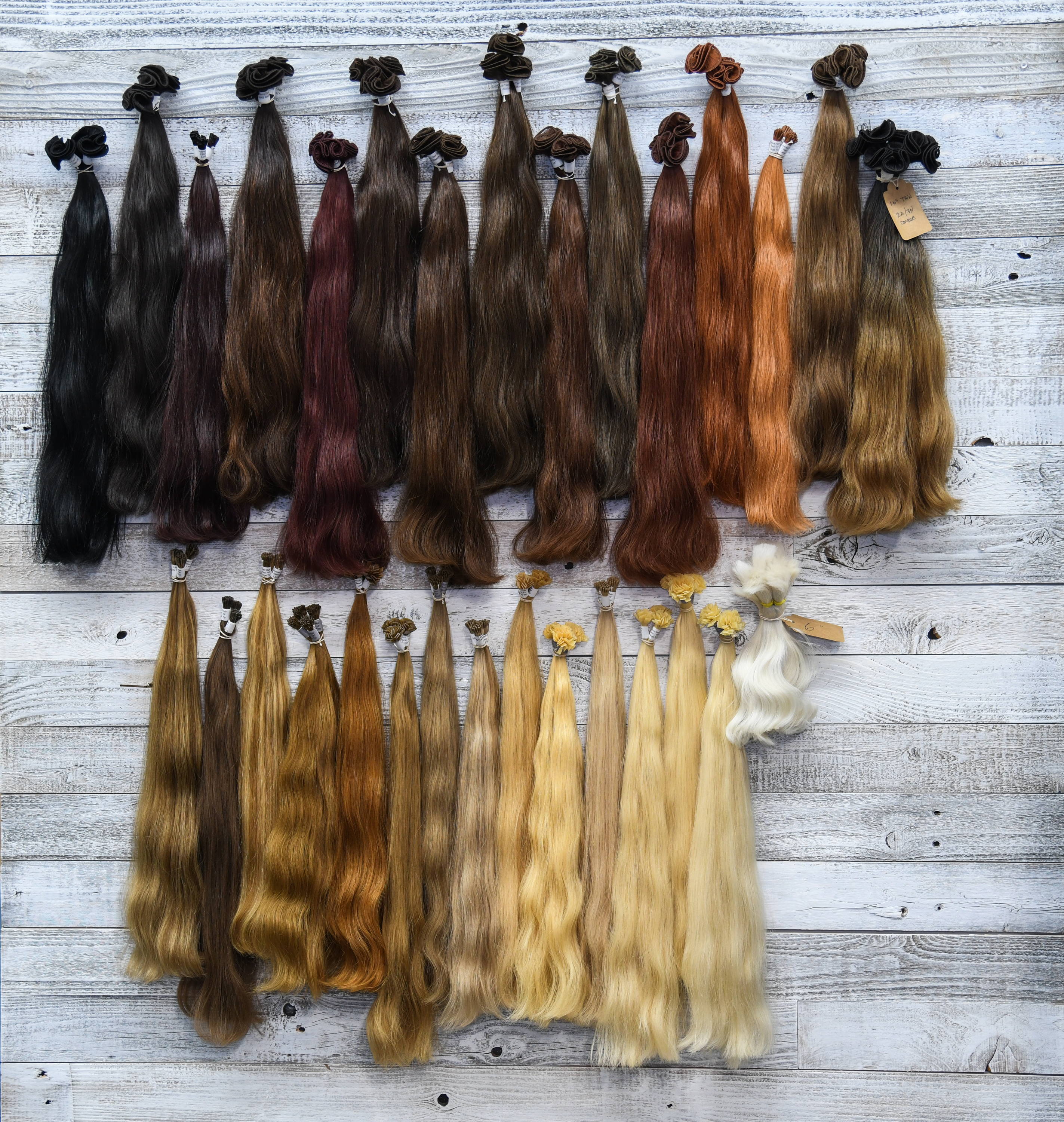 What you'll need:
Find a nice, visible space of your wall to hang your hair. It can be behind the receptionist to catch the eye of incoming clients, but make sure it's in a convenient place for you to grab hair when you need.
Group bundles together by color and length. Rubber band the groups together.
Place push pins where you would like the hair to hang. If the hair is all the same length, placing the bundles in a straight line would be nice. If the hair is different lengths, we suggest staggering the push pins.
Hang the bundles by stretching a piece of the rubber band that's around the hair and placing it over the hook.
Once all your hair is hung, play around with the order. You could do a gradient (lightest to darkest), mix up the colors, or even hang the hair by application type or supplier if you use more than one!
Lastly, snap a picture and post it to show off your new decor. Don't forget to tag us!
SEE WHAT OTHER STYLISTS ARE DOING: