Are Hand Tied Hair Extensions Better Than Tape-Ins?
Posted by JEROD MEAGHER
Are you helping clients decide between a hand-tied extension or tape-in look? Many professionals recommend one or the other, but here is the truth:
Both have their pros and cons!
What's important is informing clients and figuring out their preferences. Despite being so similar, the cost, upkeep, and outcomes are different.
On top of that, you want to be comfortable. Whatever you work with defines your salon's journey and your reputation as a stylist.
As you know, wefts for extensions are either machine sewn or hand sewn. Hair & Compounds offers
only hand sewn extensions that are real, natural 100% Indian Remy human hand-tied wefts for all types of clients.
For that reason, we will be focusing on extensions that are tied by hand.
Read along as we compare hand-tied wefts versus tape-in hair.
All About the Hand-Tied Extension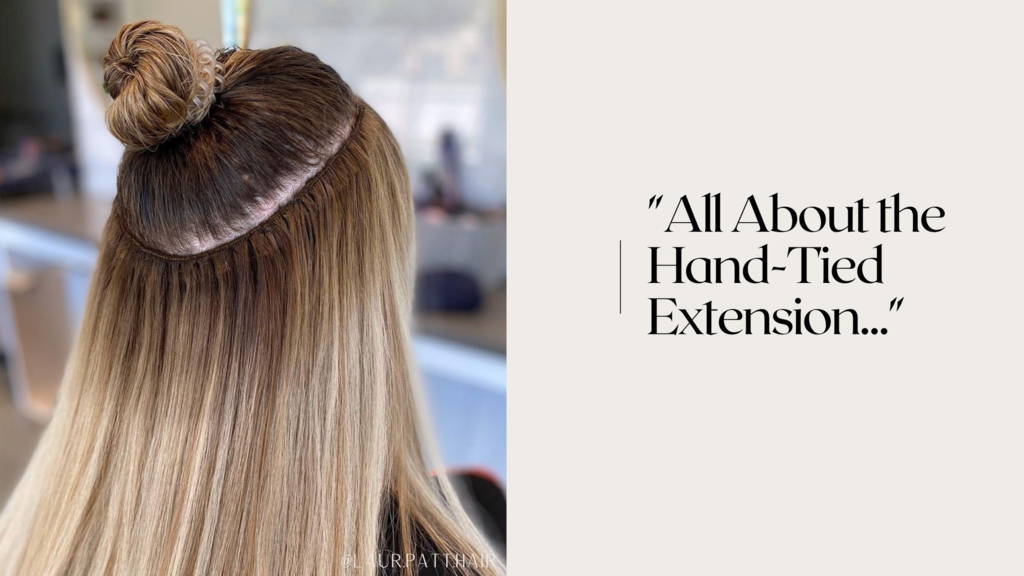 Many stylists see hand-tied weft (HTW) extensions as a long-term solution. Clients are hesitant to add real, hand-tied hair to their actual hair because of a few myths about extensions.
In their heads, they wonder…
Will HTW hair extensions damage my real hair?

Will I be in and out of the salon trying to fix them?

Can I remove them myself if I get tired of them?

Will they keep my real hair from growing out?
If a client wants fuller, thicker locks, explain the pros and cons. Transparency helps build relationships and trust between you and your clients.
The Pros of Hand-Tied Wefts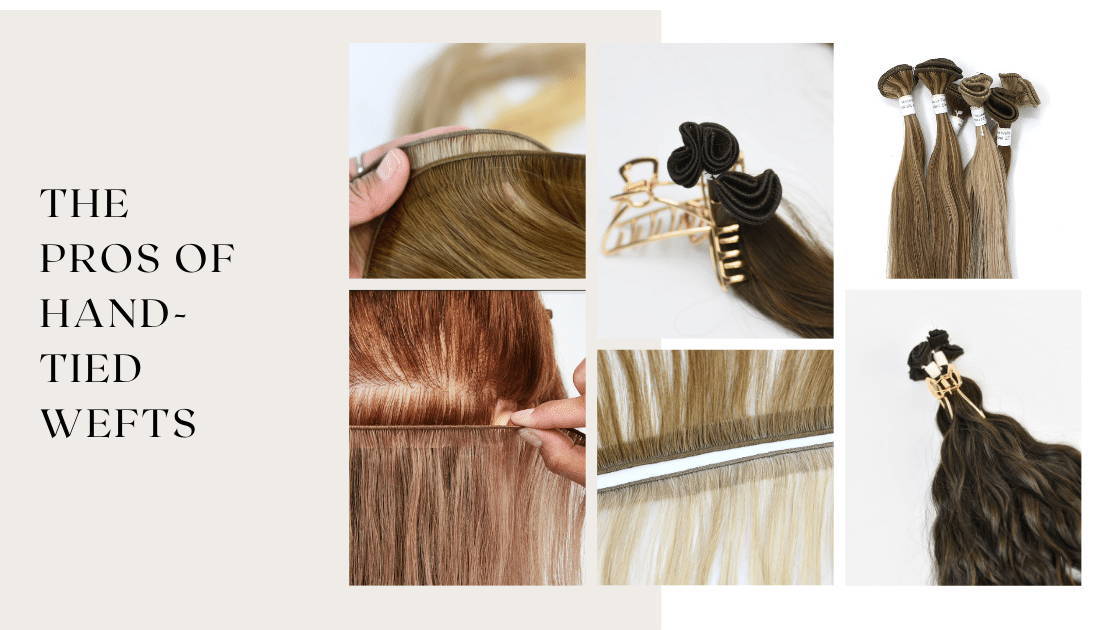 Some beauty clients need a bit of education.
First of all, using handmade wefts creates a clean and polished finish. The client wearing hand-tied wefts have the benefit of a concealed look, and they are less likely to show through thick or thin strands.
"For me the biggest difference is that they are differently customizable. Hand tied is great when   customizing extensions on a client where you want a lot of length over the entire head and you want to play with the color customization."
 More pros for handmade wefts:
8-10 weeks between maintenance
Depending on the client's real hair growth, they get to wait longer between maintenance. Compared to tape-in extensions, they spend less time in the chair.
Hiding hair extensions is easier with sew-in methods and the various beaded row methods (such as NBR or IBR) available for hand-tied hair. They give the customer options for many different styles. Updos, parting, braids, and dozens of other styles work with HTW extensions.
Fuller and thicker real hair
Fullness is the biggest pro with hand-tied extensions. Because of the sturdy style, you get to add more to the person's head.
The Downsides to Hand-Tied Wefts
One of the biggest downsides to any type of sew-in hair is upkeep. Many people like to air dry straight out of the shower out of convenience.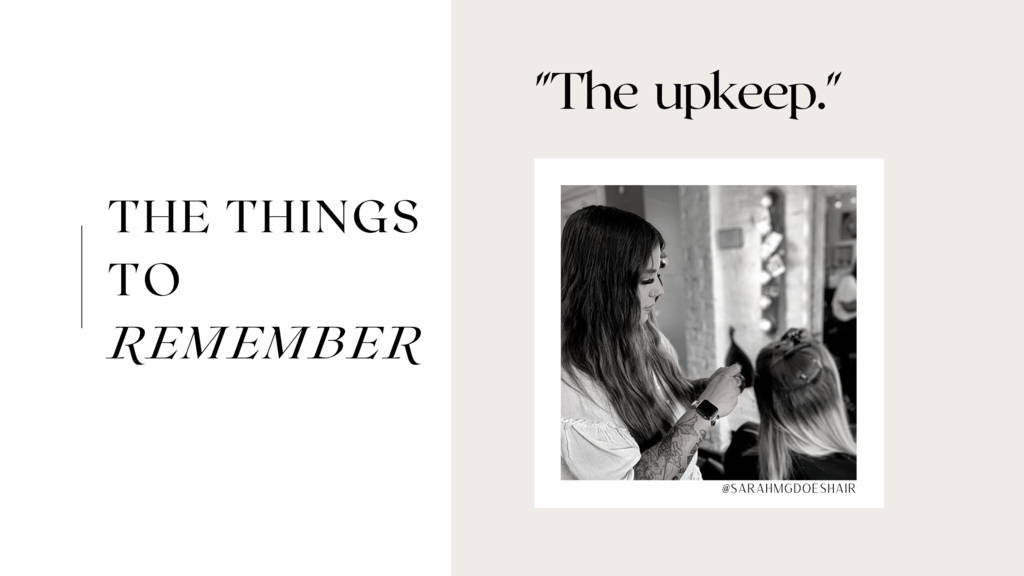 Educate your customers on how to properly dry their hair. They have the option to…
Lightly dry themselves with a towel.

Hydrate with a leave-in conditioner or oil.

Blow-dry

without

harshly tugging/pulling the sew-in hair.
Mostly, they should focus on the actual wefts. Any natural hair or the ends of the extensions can air dry as normal.
Many customers see hand-tied extensions as more expensive than a tape-in extension. While the upfront cost is more, be sure to tell them why! Over time, clients save money in the following ways:
They spend less time in your chair.

Upkeep and maintenance happen less often.

The actual extensions last longer than tape-in strands.

They are less likely to damage handmade wefts.

They get more options and styles.
If your client decides on a hand-tied extension over tape-in extensions, that is great! At Hair Compounds, we care about you and your clients.
Learn more about hand-tied extensions  with our complete guide.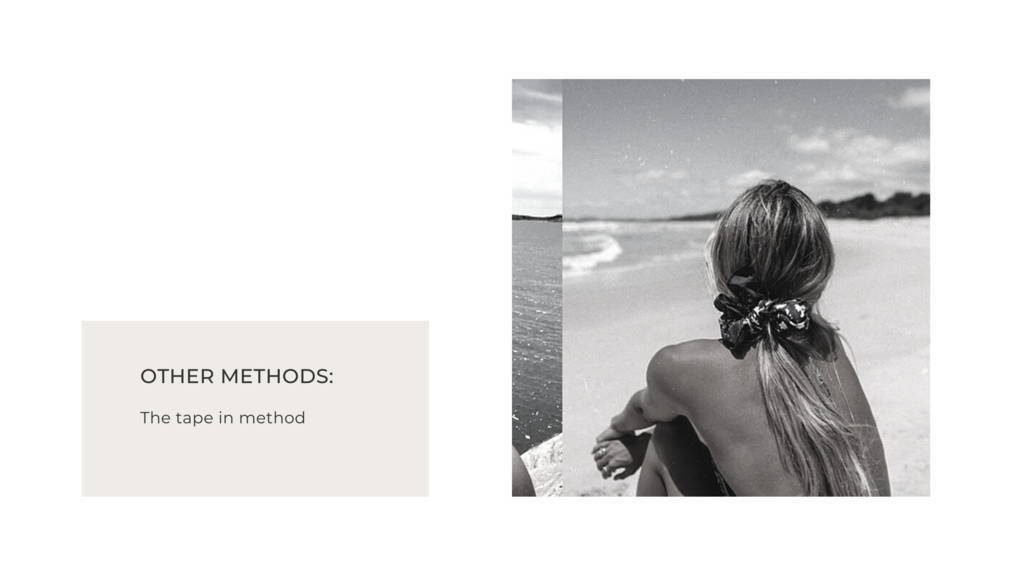 Many clients use tape-in strands at home as a type of DIY haircare. They see it as an affordable and quicker option. How do you convince them otherwise?
Of course, the cost is always a major factor for most customers. However, you should make sure that they are making educated decisions. In this section, we will go through the pros and cons of tape-in hair.
Pros of Tape-in Extensions
First of all, the process of taping is much faster than sewing. Any part of the natural hair supports tape-ins, and it works excellently for all hair types.
If your customer does not want a long-term commitment, this is a better option. They are much easier to remove than sewed-in strands, and they get to leave your chair more quickly.
"Hi! I def think tapes are a temporary method. I won't offer it unless it's for an event . I think they are great for that! "A quick fix " and less expensive."
The Downsides of Tape-in Hair
Thin hair exposes the fake strands.
Many people believe that tape extensions are better for thin hair. They do not pull against the delicate strands, but they are more easily exposed.
Updos, braids, and certain other styles do not work.
Even skilled professionals have trouble hiding the wefts.
Clients believe that they are a DIY hairstyle.
It is hard to sell certain people on the value of professional work. When people think of tape-ins, most of your time goes into convincing them. They are probably thinking of clip-ins, which are used for a quick, DIY hairstyle.
The stigma is hard to get past.
Because so many people see tape-ins as a DIY hairstyle, many clients are hesitant to try them. One popular recommended search related to hair extensions is "tape-ins ruined my hair".
The sad thing is that many people do end up ruining their natural hair because they avoided a professional stylist.
Inform your customer of the benefits of hiring an expert, or offer them an alternative that makes them comfortable.
"Tape in cons
1. Leave sticky residue.
2. I hate retaping them and having to keep track of where they were installed originally.
3. Clients expect them to be super inexpensive.
4. They can look really unnatural if the top part is shiny and not the individually drawn Pu weft"
Tips for Pricing Your Sew-In Services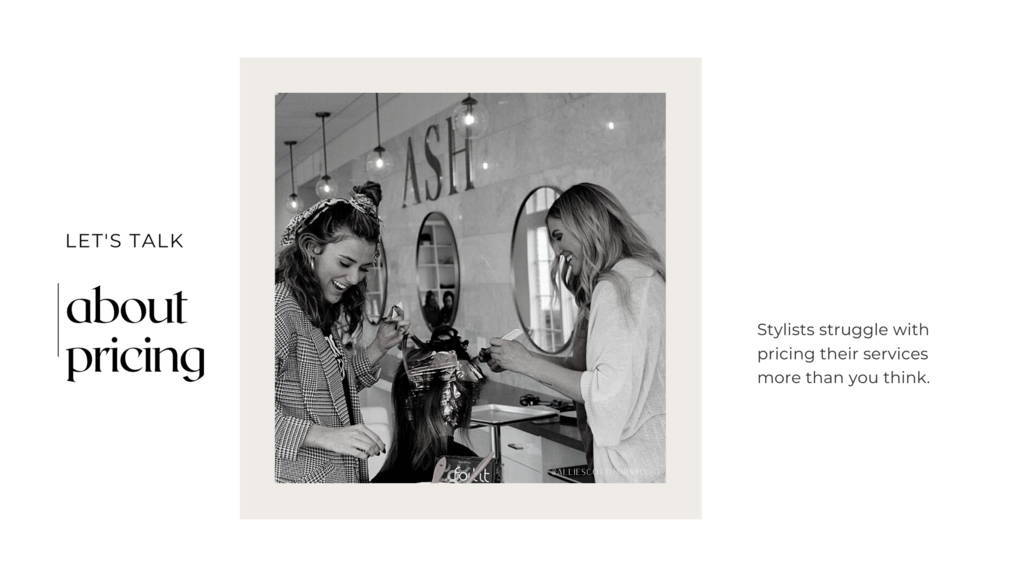 Explain that hand-tied extensions last longer, need less maintenance, and are easier to cover.
Over time, customers are paying less because of the long-term benefits.
Figure out their budget. They may be able to opt for less hair and still get a thicker, fuller look with hand-tied extensions.
Be open, offer consultations to answer their questions to figure out the best step. Remember to ask for their budget and what they want out of their extensions. For example, clients who wear their hair up might prefer sew-ins.
Is Switching to a Hand-Tied Extension for Your Clients?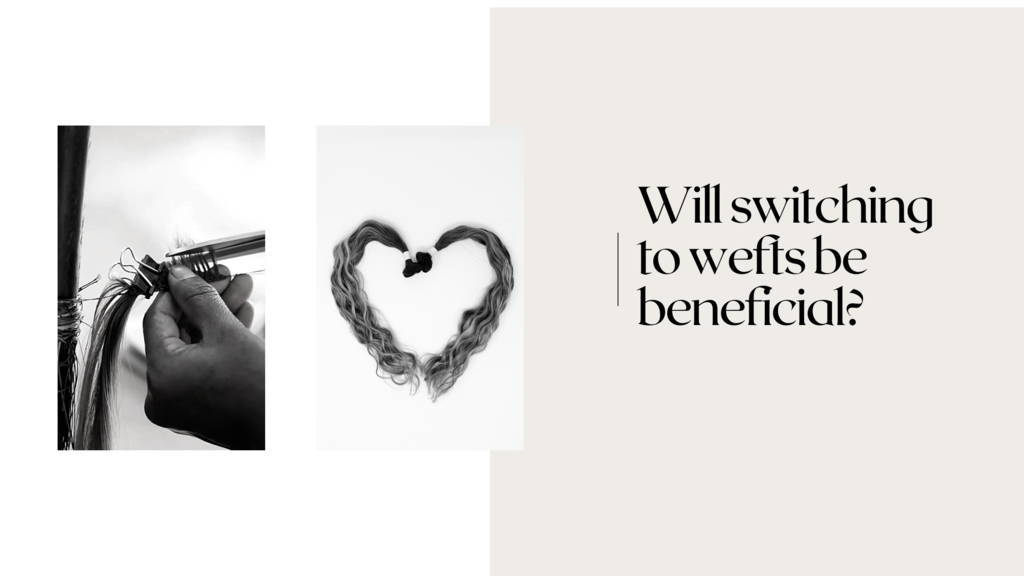 Which one is really better? Many stylists make the switch to sew-ins for a whole number of reasons. Yes, the process takes longer, but it's much easier to create amazing styles with long-lasting effects.
The answer depends on your patron and your personal preferences.
Are they looking for something quick and easily removable?
Do they want higher quality with long-term results?
What makes you, the stylist, comfortable? While patrons might have certain preferences, it all depends on your salon's journey. You may be committed to delivering that premium quality every time.
If so, make the switch today; we have your back!
"Hand-Tied wefts on the other hand are a bit more effortless for the client. No tape residue. Clients can use their same products with no issues. Both have their advantages!"
Read Reviews From More of Our Real Customers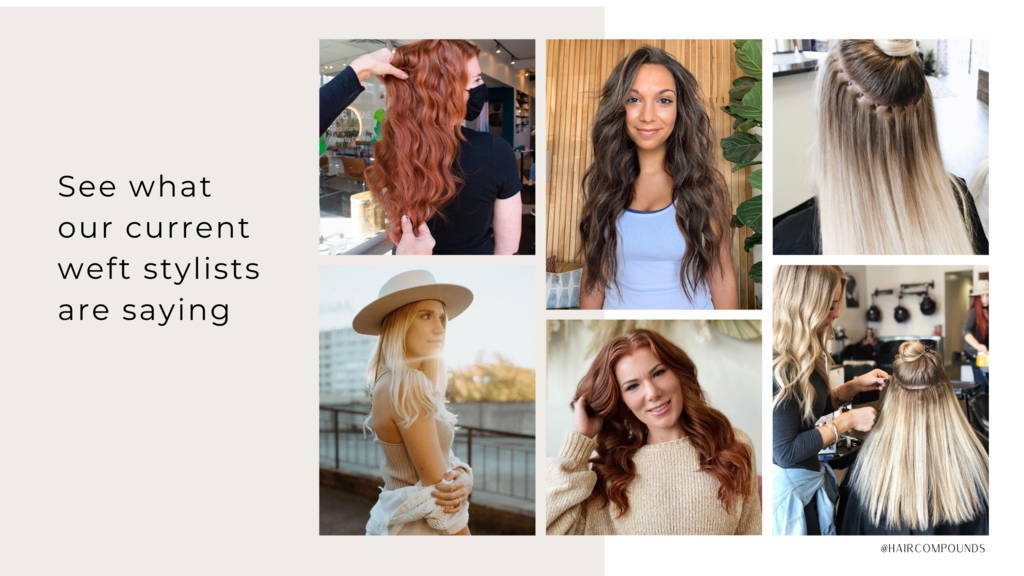 "I am really big on healthy hair growth and I feel the hand tied wefts are safer."
"there are no adhesive used which makes for an easier, faster and cleaner move up or resew. There are no residues left behind from the adhesive on tape ins which can be a pain in the butt to remove from the hair once it's in there."
"Tape ins are great when your customization is based on the thickness or density in different sections and you're doing partial applications and need something that is flexible for smaller applications."
"They are messy, typically pull the hair more, aren't the easiest to add a lot of volume, and can be seen a lot easier if not styled correctly."
"The glue from the tapes can get messy as well and placement is more time consuming compared to a weft."
There are upsides and downsides to hand-tied and tape-in extensions. As a stylist, it is important to be comfortable with whatever you choose.
Finding the best option is a great way to make beauty clients feel more comfortable!
If you are looking for more tips, feel free to keepreading our blog! We have dozens of tips and tricks to inform you and your future customers.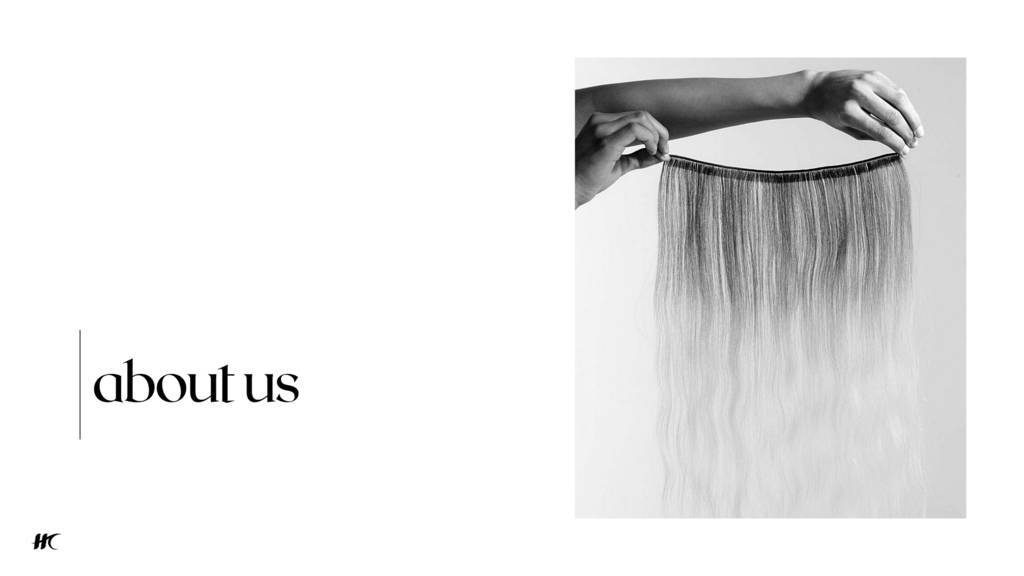 Your clients deserve the best. That's why we provide 100% real Indian Remy hair extensions. They are easy to install and built to last.
Can't find what you're looking for? Try a custom order!
Collection 2019
Sale 70% Off
Title for image