***July 13th Update*** A big thank you to everyone who applied to be involved in the new weft mustache trial. Applications are now closed. We're super encouraged by the overwhelming response we received and look forward to getting started. Those chosen to participate will be notified via email in the coming days. Thank you again to everyone who has shown interest, and please look forward to future updates about the product as we go into trials.
The monumental decisions of changing the way we make hair extensions.
After testing multiple machines and stitching styles, we changed the final sewing machine stitch across the weft track in the hopes to create a stronger track. Now we are testing changes to the root return that is classic with the hand-tied. Or as commonly referred to, the mustache.
For as many complaints we hear about the mustache causing extreme discomfort, there are just as many stylists that do not have any issues with the root return. To make a change in production that will affect everyone that works with our weft extensions is daunting, which is why we depend upon stylist feedback and testing.
When we created our final polymer bond formula, it was tested by over 25 stylists experienced with keratin hair extensions.

When we created our 2-color blends and the ombre, we consulted with many of our customers over color combinations, root lengths and fade gradients.

When we added 22" length weft extensions to inventory, we spoke with at least a dozen of our weft customers that had been ordering from us for at least 10 years about track density and widths.
This is to name a few instances where we speak and test with our stylists to make sure we are going in the right direction. We ask ourselves what is the purpose, what problems will it solve and how can we make it work for everyone.
Right before Covid-19 shutdowns, we were in the middle of testing a new finish on the mustache with a handful of stylists. And although the few responses we received were very positive, it is not enough to change production. It may seem a very minor adjustment to you, to just leave the root return longer to avoid the itchiness and complaints from your clients, but if not done correctly we could inadvertently ruin our entire incoming inventory. So we need more participants willing to test and endure all of our questions to make certain we are headed in the right direction.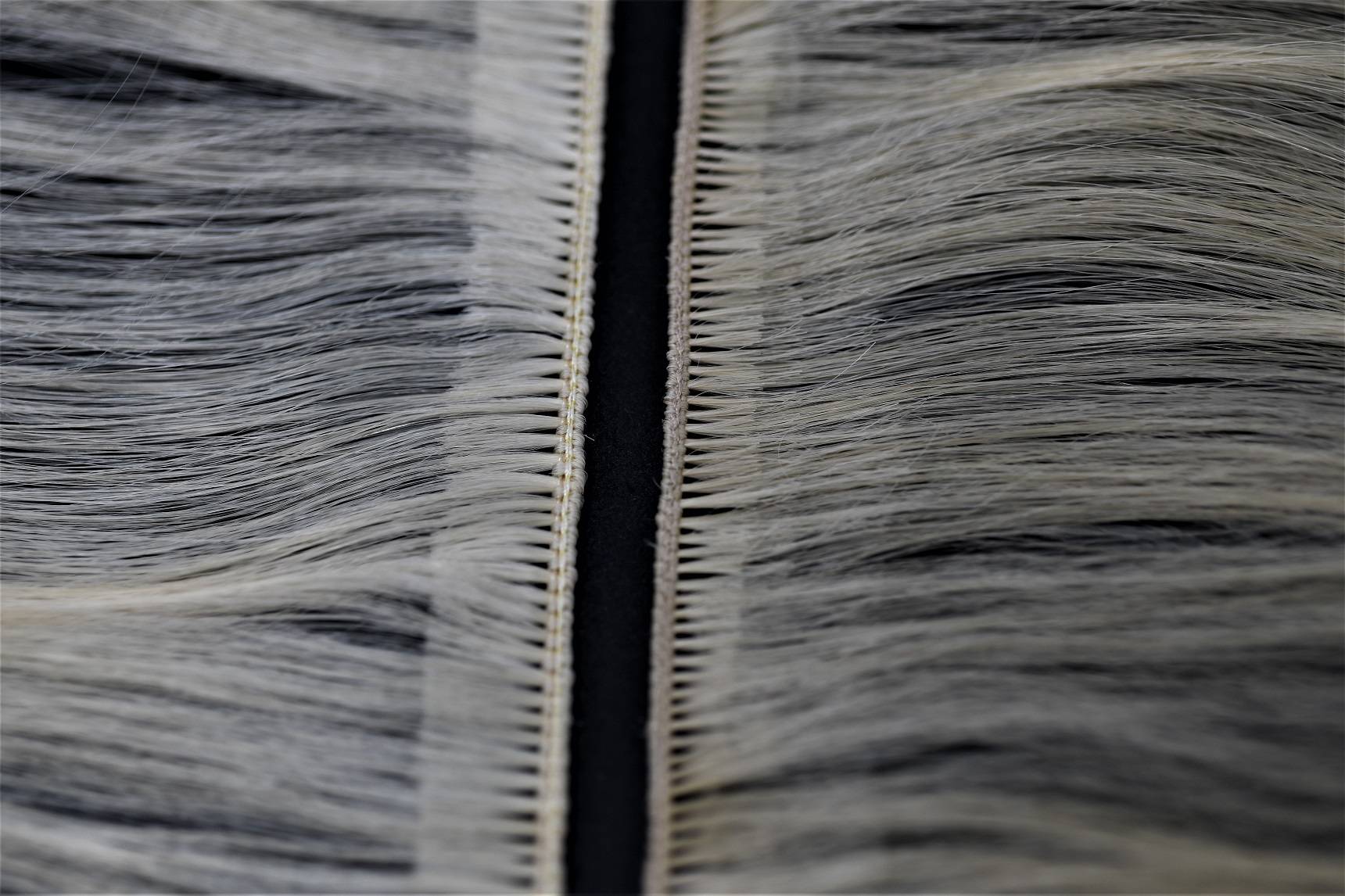 Our current track is pictured on the left, the trial on the right.
The way we trim the root return now when making the wefts is to use regular scissors and trim to about ¼" inch from the track. When working with cuticle hair, whether it is for a wig or a weft, the root returns must be short or it can cause severe matting.
After about 30 different samples we made with varying mustache lengths and finishes, we finally settled on one that when wash tested does not cause severe matting. The returns are trimmed twice with thinning shears (50-55 teeth) leaving wisps of root hair extending 1-1.5" from track.

If you would like to participate in this next round of testing, here is what we need:
1.) Choose 1 bundle in 14", 18" or 22" in any color at no cost to you.
2.) Upon receipt of the weft bundle begin logging your experiences.

a. Installation: Answer a short questionnaire and submit close up photos
b. 2 Week follow up: Answer a short questionnaire after talking with your client (can be a phone consultation)
c. 30 day follow up: Answer a short questionnaire after talking with your client during an in-person review and submit close up photos.
d. 6-8 week follow up during maintenance: Answer a short questionnaire after talking with your client during an in-person review and submit close up photos.
3.) Agree that all reports and feedback will be published (anonymously) for all our customers to view and follow along with the progress of these tests.

The deadline to sign up is July 10th 2020.
After July 10th, we will send the orders from our selected participants to our production house in India. Roughly 30 days later, we will have the trial wefts here in Los Angeles and ship those out to you. So, we estimate around mid-August is when you'll receive your product.